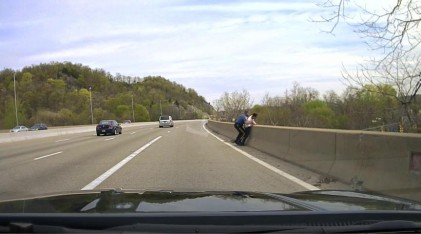 A New Jersey police officer saved the life of a suicidal man on Monday, tackling the him to the ground as he tried to leap off a highway bridge near Riverdale, Pennsylvania.
The Riverdale Police Department released dramatic video of the incident, captured on the responding officer's dash cam recorder.  In the video, 18-year department veteran Sgt. Greg Bogert is seen pulling up to the scene where a distraught man appears standing out in traffic.
When Sgt. Bogert attempts to approach the man, he suddenly sprints off towards the edge of the bridge.  Sgt. Bogert immediately gives chase, managing to get a hand on the man just moments before he went over the ledge.  He then tackles the suicidal man back down to the pavement and lays on top him to prevent him from attempting to further harm himself.
WATCH:
"Unfortunately, I dropped the f-bomb because I didn'€™t know I was going to catch him," Sgt. Bogert said in an interview about the incident with NJ.com.
Sgt. Bogert told the news outlet he has received an outpouring of support since the video went viral.
"It'€™s just incredible what'€™s happening," he said. "We'€™re not used to thank yous."
According to the report, the suicidal man was confirmed to be an individual that was reported as missing from Lancaster, PA.  He was taken to a nearby hospital for a psychological evaluation by the State Police.
Now that everything seems to have ended well, Sgt. Bogert's fellow officers decided to have a little fun with him.  When he arrived at work on Tuesday, he found a picture of the comic book superhero The Flash attached to his locker.
[image via Riverdale Police Department]
Have a tip we should know? [email protected]