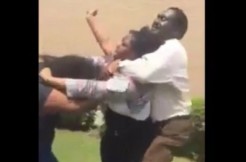 Insane video shows a student falling apparently limp after an assistant principal tried to restrain her, and now that teacher faces a criminal investigation.
The incident happened Monday at Kingstree High School in South Carolina, according to a report by The Kingstree News. (Live 5 News said it happened on Tuesday.) The alleged victim, a 15-year-old girl, had been fighting another female student. Assistant principal Henry Burgess and a second man tried to break them up, but then the girl was choked out, according to her mother, Yalonda Nesmith.
You can see video of the incident here, via Myrtle Beach Online:
"She could have died from this," Nesmith told the Kingstree News. She defended the fact her daughter was in a fight. "I always tell my kids they're not supposed to fight. You're supposed to let somebody know what's going on. But if you get into a situation where you have no choice but to defend yourself then I do condone my daughter defending herself."
Williamsburg magistrate Judge William C. Driggers said there was enough evidence to arrest Burgess, Myrtle Beach Online reports. But he only issued Burgess a "courtesy summons" on Tuesday against the advice of the investigating officer, who wanted an arrest warrant. In South Carolina, courtesy summons are similar to arrest warrants, except 1) there's no arrest, and 2) they rely on an affidavit by a private citizen, not law enforcement. It's still a criminal process, though, so the defendant may enter a plea, even choosing to fight allegations in a trial.
The investigation remains ongoing.
"We have several programs in place to assist our students in resolving conflicts without physical contact," the Williamsburg County School District said in a statement obtained by LawNewz.com. "Our Rehabilitative Behavioral Health Specialists, Intervention Specialists, Mental Health Counselors (on-site), and Guidance Counselors work closely with students to address numerous issues throughout the year to include conflict resolution. Annually, counselors and administrators participate in Crisis Non-violence Technique Training that provides them with the knowledge needed during physical altercations."
They refrained from specifically talking about Burgess' situation, except to say they are cooperating with authorities.
Updated May 7, 3:16 p.m. EST: An earlier version of this article erroneously stated that Yalonda Nesmith was the person who recorded the incident.
–
Follow Alberto Luperon on Twitter (@Alberto Luperon)
Have a tip we should know? [email protected]