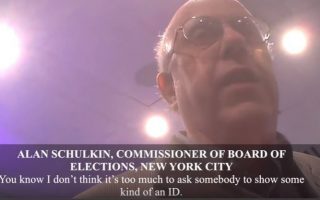 A hidden camera captured a conversation with Alan Schulkin, New York City Democratic Commissioner of the Board of Elections, where the commissioner railed against voter fraud, claiming that in minority neighborhoods people vote multiple times from different polling locations. "They bus them around," Schulkin said about certain neighborhoods. "They put them in a bus and go poll site to poll site." When asked what kind of neighborhoods, Schulkin first said, "I don't want to say," but when goaded by the interviewer, who suggested black and Hispanic areas, Schulkin added, "and Chinese too."
When asked why people organize such efforts, Schulkin said it was for "More votes for themselves. They're all running for office," implying that candidates themselves are gathering minorities to vote for them over and over.
Schulkin pointed out that New York law doesn't allow for poll sites to ask for identification, but he didn't seem to agree with the law. "I don't think it's too much to ask somebody to show some kind of an ID."
He went on to say he's "not crazy about everything the Democrats do," and railed against fellow Democrat, New York City Mayor Bill de Blasio for his city ID program. "Anybody can go in there and say 'I'm Joe Smith, I want an ID card. It's absurd. There is a lot of fraud," he said. "This is why I'm getting more conservative as I get older."
"Are you sure you're a Democrat?" the interviewer asked. "Sometimes I'm not," Schulkin replied.
The video, produced and released by Project Veritas, says that it was recorded on December 15, 2015, at the United Federation of Teachers Christmas party. Clearly they sat on it for a while so they could make it public in time for the election.
Have a tip we should know? [email protected]