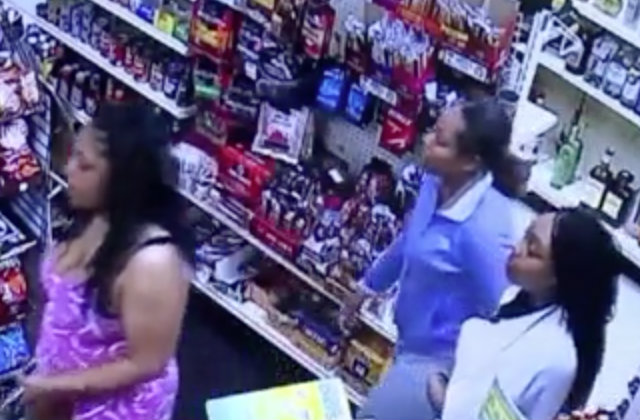 Police in Kentwood, Michigan are seeking three women wanted for running over a convenience store manager with a car, almost killing her.
One of the victim's coworkers spoke about it to WXMI, but only if they didn't record his face, and only identified him as Jose.
This incident happened early Saturday morning at 1:30, he said. The women had pulled up to the store's drive-thru window, and soon clashed with the manager, identified as 57-year-old Kristina.
"They were arguing about the price," he said. The manager "just got tired of dealing with it, so she closed the window."
This did not end the conservation. As seen on video, the suspects entered the store. Jose said the women came in to argue with Kristina over what they saw as disrespect. But she refused to apologize.
"One of the two girls who came in after her [a third woman] said 'Well, we'll give her something to get mad about,' and they started pulling down the shelves of the snacks," Jose said. "The chips, they pulled the shelves and that's when Kristina started chasing them because they started running."
She followed them outside. Surveillance footage (which is not available in this story) reportedly shows Kristina approaching the passenger-side window of their vehicle. It backed up, knocked her down, and she was then run over.
"I found her on the ground, she was laying there," Jose said. "If it would've been a few inches further they would've run over her stomach, so it was lucky that it wasn't and it was just the legs otherwise it would've been worse."
Kristina sustained bleeding on her brain, a fractured leg, and a broken pelvis. The investigation remains ongoing. Anyone who with information is asked to call the Kentwood police at Kentwood police at (616) 698-6580. Anyone who wishes to remain anonymous can also try Silent Observer at (616) 774-2345.
Have a tip we should know? [email protected]