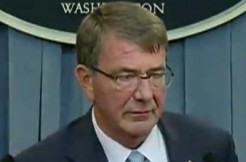 On Thursday, The Department of Defense announced they'll lift the ban on transgender people openly serving in the U.S. armed services.
"They want to be held to the same standards, and treated like everybody else," Secretary of Defense Ash Carter said at a press conference. Implementing the policy will take about a year.
This isn't to say the military won't dismiss people for reasons linked to sex reassignment. Carter told a reporter that potential recruits undergoing medical procedures linked to sex reassignment surgery had to be clinically healthy for at least 18 months before they can serve.
On July 13, 2015, Carter announced a six-month study that'd analyze the "policy and readiness implications" of letting transgender people serve in the military.
–
Follow Alberto Luperon on Twitter (@Alberto Luperon)
Have a tip we should know? [email protected]