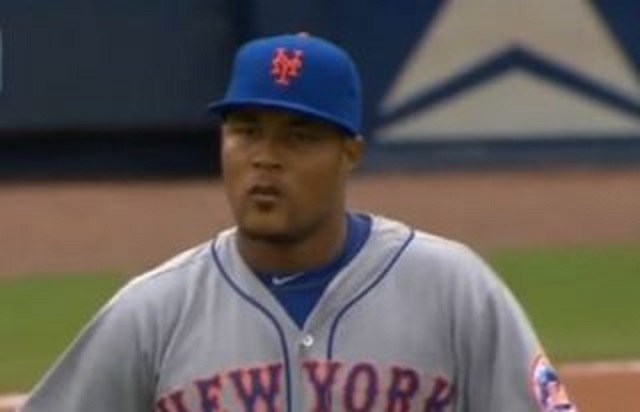 Last October, New York Mets pitcher Jeurys Familia was arrested for allegedly assaulting his wife. While the case was later dismissed for lack of evidence, Major League Baseball has still decided to suspend the all-star closer for 15 games this season, under their domestic violence policy.
Familia's wife, Bianca Rivas, claims that the injuries that officers saw on her — a scratch on the chest and a bruised cheek — were not caused by her husband. She has said that the scratch was caused by their child, and that she bruised her own cheek. She also gave an excuse for two knives that police found on the floor, saying that Familia had wedged them into the door while locking himself in a bathroom after they had an argument.
In a statement, Familia said, "it is important that it be known that I never physically touched, harmed or threatened my wife that evening, adding, "I did, however, act in an unacceptable manner and am terribly disappointed in myself."
MLB Commissioner Rob Manfred said that their investigation included in-person interviews with Familia and Rivas, who cooperated with league officials. Manfred said in a statement:
The evidence reviewed by my office does not support a determination that Mr. Familia physically assaulted his wife, or threatened her or others with physical force or harm, on October 31, 2016. Nevertheless, I have concluded that Mr. Familia's overall conduct that night was inappropriate, violated the Policy, and warrants discipline.
Under the terms of his suspension, Familia has reportedly already attended 12 90-minute counseling sessions, and will attend an event for a domestic violence organization in New York as well as rookie programs in the U.S. and Dominican Republic. He will be able to continue practicing and playing with the team during Spring Training, and will begin his suspension when the Mets' season starts on Monday. Familia has agreed not to appeal the league's decision.
[Image via screengrab]
Have a tip we should know? [email protected]