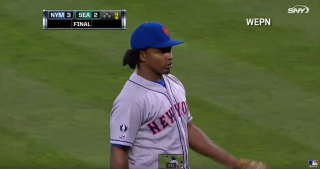 What do Shoeless Joe Jackson and Pete Rose have in common with New York Mets relief pitcher Jenrry Mejia? Mejia joins the former two baseball players on Major League Baseball's banned players list. On Friday, Major League Baseball placed a lifetime ban on Jenrry Mejia after he violated the league's drug testing policy three times. Just as the 2015 baseball season was starting, Mejia was suspended 80 games for using Stanozolol, an anabolic steroid that is banned by MLB. When Mejia was reinstated on July 7, 2015 and rejoined the Mets roster, he was slapped with a season-long (162 games) suspension from MLB less than one month later. News of his third violation comes while he is still serving his 162-game suspension. Mejia was quick to respond to the ban, stating "[i]t's not like they say. I am sure that I did not use anything." LawNewz.com contacted Mejia's agent Peter Greenberg for comment but did not write back at the time of this publication.
I'm a Mets fan, so naturally, I have some rash first thoughts about this situation from a fan's perspective. I think I speak on behalf of all Mets fans when I say that Mejia has to be the most foolish baseball player on the planet to think that he could get away with using PED's in the first place. Especially as the Mets come off the heels of an enormously successful 2015 season that got them all the way to the World Series, the last thing they need is a baseball player who brings a level of ego and toxicity that Mejia has.
Now that my mini-rant is over, let's touch on the legal angle here. Remember that Major League Baseball is governed by its collective bargaining agreement and its underlying policies, so the league is only governed by the law it creates at the bargaining table with the MLB Players' Association. In this case, MLB's drug testing policy is the body of law that applies here. The drug testing policy is a very detailed body of law that includes what are considered "banned substances." Such banned substances include human growth hormone, a laundry list of anabolic steroids, and testosterone. Section 7(A) explicitly spells out the sanction a player will receive if they are tested positive for using performance enhancing drugs: 80 games for a first-time offense, 162 games for a second-time offense, and a permanent ban from the sport if you're caught using PED's for a third time. Section 8 affords players subject to punishment by MLB's drug testing policy the right to appeal their sanction. An arbitrator hears the appeal and weighs the evidence provided by the league and the player. It is at his sole discretion to decide whether to uphold or overturn the sanction.  However, for players who are banned from MLB because they violated the league's drug testing policy, Section 7(A)(3) grants the player the ability file an appeal for reinstatement to the Major League Baseball commissioner no earlier than one year after the ban has been placed.
It wouldn't come as a surprise to me if Mejia appeals this latest sanction to MLB Commissioner Rob Manfred in a year; even if he knows he's wrong, it's a right that he has under the league's drug testing policy. So what "legal" arguments and defenses can Mejia raise in his appeal? Again, I use the term legal loosely because we're dealing with the league's drug testing policy, not federal or state law. Nevertheless, there are many routes that Mejia can go down. First, he can state that he never had knowledge that he knowingly used performance-enhancing drugs. However, Section 8(B)(3) places the burden on the player to prove this defense. Mejia also cannot mitigate the suspension down for a third time offense, as mandated under Section 8(B)(4).
Mejia could also pull a page out of the Ryan Braun playbook and try to contest the suspension on the grounds that there was a faulty chain of custody of his urine sample. Remember that in 2012, Brewers outfielder Ryan Braun won an appeal after he successfully argued that a urine collector failed to promptly mail Ryan Braun's urine sample to the drug-testing lab. Braun was able to show that the collector, Dino Laurenzi, collected Braun's urine sample on a Friday, Laurenzi kept the sample in his fridge over the weekend, and sent the sample via Fedex to the drug testing lab the following Monday. If Mejia dares to make an argument that his urine sample was improperly handled or sent to the drug lab, he has the burden of proving such a claim.
Mejia has one last-resort option, which is to show that he had a legitimate medical reason for using a substance that is banned by Major League Baseball. Section 3(I) of MLB's drug testing policy grants players the right to receive a "therapeutic use exception," or a TUE, so long as they can show proof that using PED's is for a legitimate medical reason. However, MLB is very strict about granting a TUE to players. It requires a physician's approval, very timely filing, and careful review by certified MLB clinicians. TUE's were brought to the limelight in 2013 when shortstop Miguel Tejada was suspended 105 games after testing positive for Adderall, a substance banned by MLB. His story is unfortunate because Tejada tested positive as he was in the process of submitting a TUE for MLB's review. His use of the drug was legitimate as he suffers from attention-deficit disorder. It's a long-shot, but if Mejia has it in him, he can try and make a claim that his use of PED's was for a legitimate medical purpose. The burden falls on Mejia again to prove this defense, and he must do so by furnishing doctor's notes and communication with the league claiming his request for a TUE. Although, I would highly doubt he raises this defense.
Mejia's lifetime ban from baseball makes him the first Major League Baseball player in the history of the game to be banned from the game for using performance-enhancing drugs. Should he appeal to Commissioner Manfred, it will be interesting what determination is made. If he loses or if he just accepts the ban, chances are that the 26-year old will take his talents back to his native Dominican Republic where he'll play baseball. Or maybe he'll go overseas to Japan or China where baseball is just as popular as it is in the US.
Needless to say, news of this was certainly shocking. But it should serve as a very sobering reminder to all active MLB players (and minor league baseball players too) that the league's drug testing policy is alive and well. Jenrry Mejia has, no doubt, become the poster boy of how not to test the power of MLB's drug testing policy.
Tony Iliakostas is a sports law contributor for LawNewz. He is the founder and host of his own sports law video blog called "Law and Batting Order." You can follow Law and Batting Order on Facebook and Twitter, and you can follow Tony on Twitter.
Have a tip we should know? [email protected]