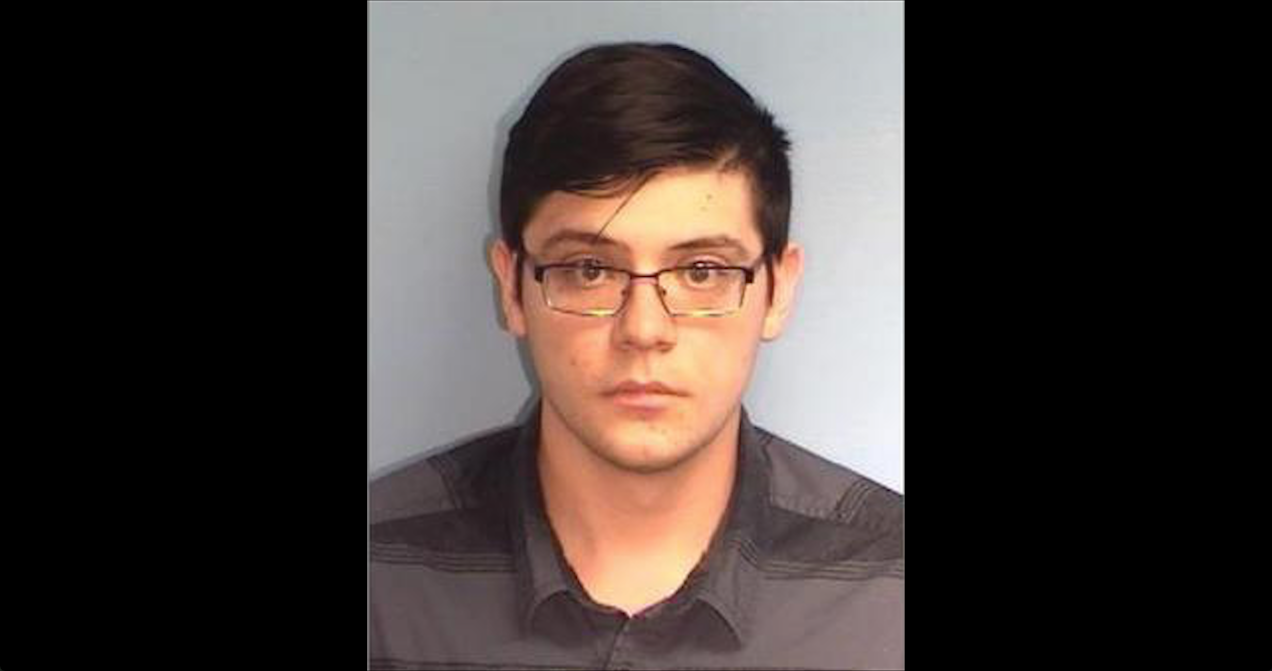 A white teenager from a Chicago suburb was recently relieved of five semi-automatic weapons by local law enforcement acting on a tip that he was seen wearing a white nationalist t-shirt.
Jakub Zak is a 19-year-old from Vernon Hills, Ilinois, an affluent hamlet about an north-northwest of the Windy City. Zak appeared in court on Monday to face charges of possessing those weapons without a valid Firearm Owners Identification (FOID) card–a requirement for Illinois residents to legally possess guns or ammunition. FOID cards are issued by the Illinois State Police "to any qualified applicant," according to their website.
After receiving an anonymous tip regarding: (1) Zak's interest in guns; and (2) Zak being seen at a local college wearing a t-shirt promoting the white supremacist group Patriot Front, the Bureau of Alcohol, Tobacco, Firearms and Explosives (ATF) requested a campus threat assessment be performed on the teenager. A campus threat assessment is a behavioral profile that attempts to determine an individual's potential for violence and can be performed by law enforcement or contracted third parties.
As for Patriot Front, the organization is openly associated with the ideologies of white supremacy and neo-Nazism in particular. The group is run by Dallas, Texas-based Thomas Rousseau, who attended Coppell High School where he worked on the student-run newspaper. The Patriot Front is part of the alt-right movement and split from a larger group, Vanguard America, in the aftermath of the violence at Charlottesville, Virginia–where socialist Heather Heyer was allegedly murdered by a white nationalist.
The anonymous tip was received on April 7. On April 12, federal and local authorities searched Zak's home. There they found five semi-automatic weapons, four boxes of ammunition, some empty magazines and multiple miscellaneous firearm parts, according to Kim Christenson, a spokesperson for the Vernon Hills Police Department. Christenson also noted that his department was unable to locate any record of Zak–or anyone at his address–being issued an FOID card by the state police force.
Zak is currently a registered student at the College of Lake County, according to school officials. The college is currently conducting an investigation but declined to elaborate further, according to the Chicago Tribune. The outcome of Zak's campus threat assessment is currently unknown.
According to the Daily Herald, on April 16, Zak was charged with two Class A misdemeanors: (1) unlawful possession of a firearm without an FOID card; and (2) unlawful possession of ammunition without an FOID card. If convicted, he faces up to two years in prison and fines totaling $5,000.
Zak was released from jail after posting a $150 bond and currently has a court date set for May 17.
[image via Vernon Hills Police Department]
Follow Colin Kalmbacher on Twitter: @colinkalmbacher
Have a tip we should know? [email protected]