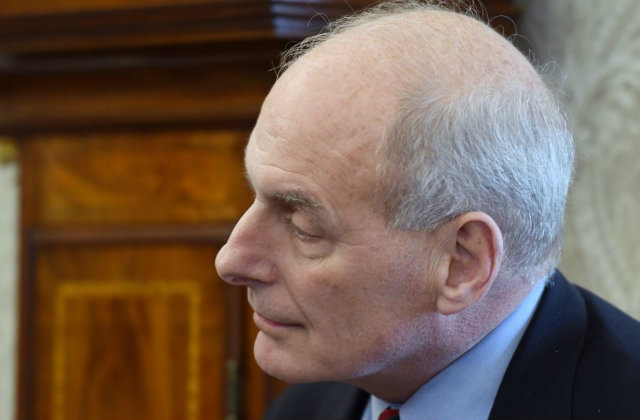 White House Chief of Staff John Kelly allegedly told senior staff on Friday morning to give an apparently false story about how he handled domestic violence allegations against aide Rob Porter. Two senior officials said Kelly instructed them during a meeting to say he worked to get rid of Porter in under 40 minutes after determining the abuse claims by two ex-wives were credible, according to The Washington Post.
From the article:
"He told the staff he took immediate and direct action," one of the officials said, adding that people after the meeting expressed disbelief with one another and felt his latest account was not true.
The officials said they spoke on background because the details of these meetings are meant to be confidential.
White House spokesmen declined to comment in the WaPo story about the alleged instruction.
If the report is true, this would contradict Kelly's and the White House's public statements on how Porter left his job. The domestic violence allegations became high-profile this week thanks to a Daily Mail report. Kelly issued an initial statement calling Porter "a man of true integrity and honor and I can't say enough good things about him."
Porter announced his resignation Wednesday after first wife Colbie Holderness released pictures in which she had a black eye. He denied the allegations as a "smear campaign," and Kelly continued to voice support for him.
"There is no place for domestic violence in our society," Kelly said in a statement Wednesday. "I stand by my previous comments of the Rob Porter that I have come to know since becoming Chief of Staff, and believe every individual deserves the right to defend their reputation. I accepted his resignation earlier today, and will ensure a swift and orderly transition."
White House Principal Deputy Press Secretary Raj Shah said in a press briefing Thursday that Porter was "terminated," but he later used the word "resigned." He said Kelly became "fully aware" of the allegations Wednesday. Sources for CNN said in a Wednesday report that Kelly knew about the allegations since last fall because Holderness and Porter's second wife Jennifer Willoughby told their claims to the FBI, which tied up Porter's application for a security clearance.
In Thursday's press briefing, Shah declined to answer a reporter's question as to whether Kelly knew about the claims in November.
[Image via Olivier Douliery-Pool/Getty Images]
Have a tip we should know? [email protected]