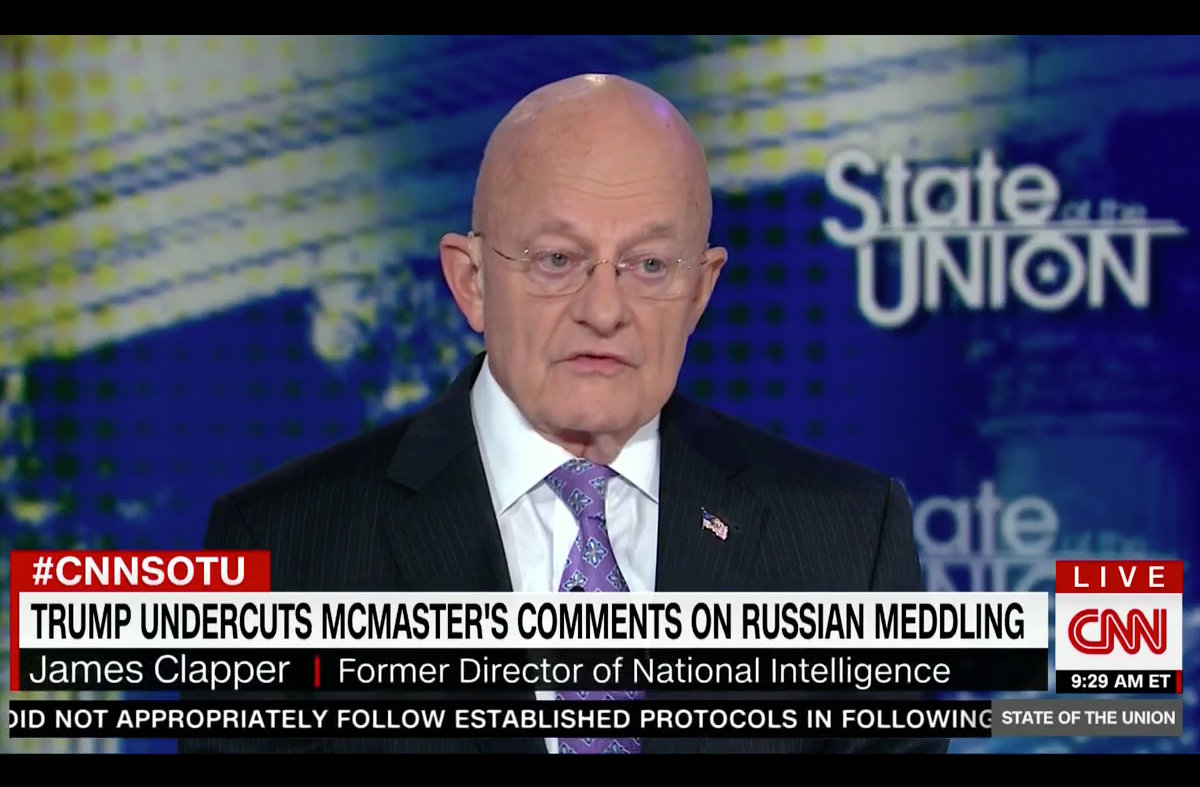 A new indictment charged three Russian organizations and 13 nationals for interfering in the 2016 election, but is enough being done about that? Former Director of National Intelligence James Clapper, who served in the Obama administration, complained on Sunday that President Donald Trump needs to do more.
"What are we going to do about the threat posed by the Russians?" he said on CNN's State of the Union. "He never talks about that. It's all himself, collusion or not."
When Clapper was asked why he didn't do more about the interference as DNI, he said such election interference tends to start out low-key. He said he wasn't aware of Russia's efforts going back to 2014, but became aware in 2015.
"Never before have we seen an effort like this mounted by the Russians with the multidimensional nature of it, and its aggressiveness and directness," he said. "This was unprecedented."
This interview comes after National Security Adviser H.R. McMaster said there was "incontrovertible" evidence Russia got involved. The president tried to shoot down the idea that he only won the election because of interference.
General McMaster forgot to say that the results of the 2016 election were not impacted or changed by the Russians and that the only Collusion was between Russia and Crooked H, the DNC and the Dems. Remember the Dirty Dossier, Uranium, Speeches, Emails and the Podesta Company!

— Donald J. Trump (@realDonaldTrump) February 18, 2018
The indictment says the Russians pretended to be Americans, running social media accounts to "support" Trump and U.S. Senator Bernie Sanders, hurt Hillary Clinton, and discourage voting by people of color. They also allegedly played both sides after the election. There was a whole lot going on. That said, none of the defendants ostensibly belong to the Russian government, in spite of a U.S. intelligence report that said the Kremlin directed efforts to help Trump win the race. On Saturday, Russian Foreign Minister Sergey Lavrov dismissed the indictment as "just blabber."
Of course, amid all this is the collusion probe. The charges spun out of Special Counsel Robert Mueller's investigation into Russian interference, and whether the president's campaign helped out. Trump has denied the allegation of ties as a "witch hunt." The indictment says Russians made contact with "unwitting" members of his campaign,but makes no allegations that the campaign was in on the plan.
[Screengrab via CNN]
Have a tip we should know? [email protected]