Ray Tensing, a former University of Cincinnati police officer, is facing a second trial for the death of Sam DuBose, a black motorist Tensing shot during a traffic stop on July 19, 2015. Tensing's first trial ended in a hung jury. Before the second trial begins, attorneys for both sides are arguing at a hearing regarding the admissibility of evidence, including a Confederate flag t-shirt that Tensing wore under his uniform the day of the shooting. Watch the hearing live in the player above.
The defense believes that the shirt would be prejudicial due to its racial connotations, and would do more to play on jurors' emotions than prove any facts in the case.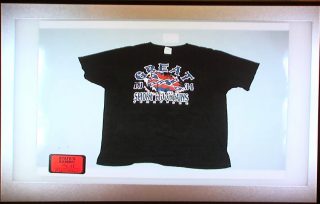 Tensing's attorney is also expected to challenge the qualifications of the prosecution's video expert during the hearing.
In the past, Tensing has argued that he feared for his life when he shot DuBose, claiming that the driver dragged him with his car. The jury in the first trial deliberated for 25 hours but could not reach a decision. Tensing is charged with murder and voluntary manslaughter.
Have a tip we should know? [email protected]