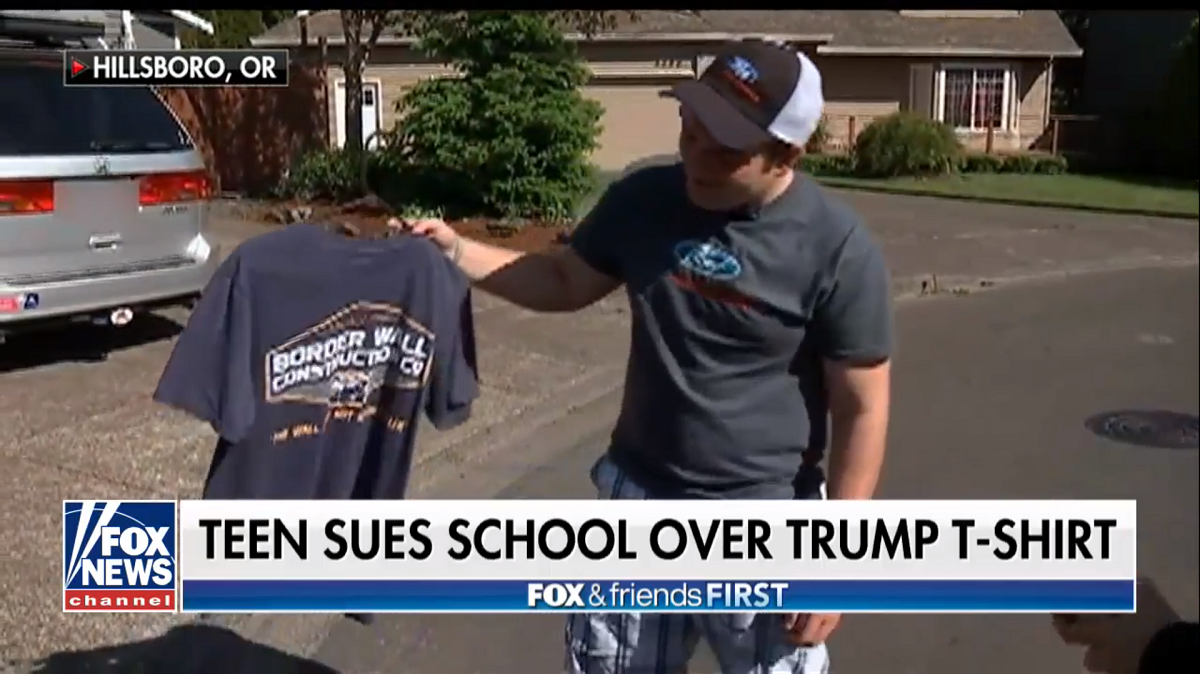 An Oregon student who was suspended for wearing a pro-border wall Donald Trump t-shirt will be granted a $25,000 settlement and a written apology from his school district.
Addison Barnes, 18, was a student at Liberty High School in Oregon when he was suspended for refusing to cover or change out of a t-shirt that said "Donald J. Trump Border Wall Construction Co." and "The Wall Just Got Ten Feet Taller." Barnes, who had worn the shirt for a politics class where immigration would be discussed, was told by his assistant principal to either cover up or go home, as some students and a teacher were offended by his shirt.
"At first I covered it for a few minutes," Barnes told Fox News. "Then I thought to myself this isn't right, this goes against the First Amendment and my beliefs, so I took the jacket off."
Barnes was escorted out of the class and suspended in January of 2018. As a result, Barnes sued Liberty High School, the assistant principal, and the Hillsboro School District for violating his First Amendment rights. Barnes has since graduated from the school.
"I brought this case to stand up for myself and other students who might be afraid to express their right-of-center views," Barnes noted in a statement, as reported by Oregon Live. He continued,  "Everyone knows that if a student wears an anti-Trump shirt to school, the teachers won't think twice about it. But when I wore a pro-Trump shirt, I got suspended. That's not right."
[Image via Fox News screengrab]
Have a tip we should know? [email protected]