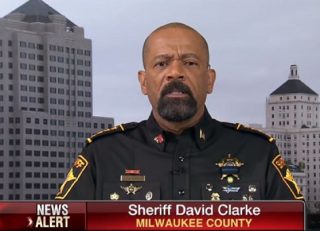 Milwaukee County Sheriff David Clarke is a well-known conservative and supporter of Donald Trump. Not everyone appreciates that though, as evidenced by the alleged actions of a man who shared a flight on a small plane from Milwaukee to Charlotte with the Sheriff, who spoke at this year's Republican National Convention.
A passenger told the Milwaukee Journal Sentinel that Preston Bluntson was talking throughout the flight, getting louder as it went on, and making comments towards Clarke. "The guy was very abusive," the passenger said. Both Clarke and Bluntson are black, and Bluntson reportedly used a racial slur against Clarke, saying he is "not one of us."
A statement from the Milwaukee County Sheriff's Office said that Bluntson, who appeared to be drunk, was also harassing the flight crew and other passengers. The statement said that Clarke told him to "chill out" in the middle of the flight, and had a flight attendant arrange for airport police to be standing by when they landed. After the plane landed and was taxiing, Clarke told Bluntson to sit down, and when he didn't, "Clarke shoved the unruly passenger face down and pinned him against the seat and held him there until the flight arrived at the gate."
Charlotte Police arrested Bluntson and charged him with being intoxicated and disruptive in public. He was sent to Mecklenburg County Jail.
[Screengrab via Fox Business]
Have a tip we should know? [email protected]