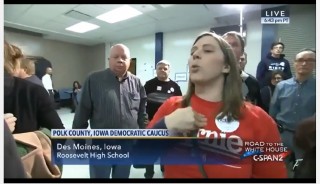 Allegations continue to swirl about alleged voter irregularities in Des Moines, Iowa as it relates to the Bernie Sanders/Hillary Clinton vote. We wrote about it this morning after video surfaced raising questions about how the vote was counted at Roosevelt High School.
In the video, you can see a Bernie Sanders supporter asking the Democratic caucus precinct chair for a recount after the supporters observed some "issues" with the Hillary Clinton vote. In that Polk County precinct, Hillary Clinton won by 232 votes to Bernie Sanders' 224 votes. That win gave Clinton 5 delegates to Bernie Sanders' 4 delegates. Clinton was declared the overall winner of the Iowa caucuses, but Sanders continues to raise questions about voter problems.  Now remember, Clinton won by just about 2 delegates in the state race — so literally every vote counts.
Late this afternoon, LawNewz.com spoke with Drew Gentsch, who is the Des Moines Democratic Precinct Caucus Chair and a local attorney. He gave us some better perspective on what happened. He says everything was followed according to procedure, and it was a "fair and democratic" process.  But you can judge for yourself.
Okay, so here is what happened. Gentsch told us that some members of the Bernie camp thought they saw something strange or "issues" with the Clinton vote. Gentsch said after the issues surfaced, he asked the crowd if they wanted a recount.
"I am just there to do the will of the body. If the Bernie folks wanted a recount, they would have asked for one by raising their hands," he told LawNewz.com. The vote on whether to do a recount failed by a majority. They never did a recount, and Clinton won 232 votes in that precinct.
"It was a very small but loud Bernie Sanders minority that had the issue but apparently they didn't have the support of the rest of his camp," Gentsch said. When we asked Gentsch specifically what the issues were with the Clinton vote, Gentsch said he didn't know. He also provided LawNewz.com with these handwritten notes from Monday night. There you can see how each campaign precinct chair signed-off on the votes by initialing them on Monday evening. He told us the official document is with the party (Gentsch said he also redacted the notes he took on his conversation with LawNewz.com, which are blacked out below).
We ran this video by an Iowa Caucus expert from the University of Iowa to ask about any potential legal ramifications for either side.
"On the whole I don't think it would be all that useful for Sanders to mount a legal challenge to the counts. My feeling is that even though Clinton actually won a few more delegates that he was close enough to make it a 'virtual tie' as he characterized it. That should allow him to essentially declare victory even if not an actual win. If he were to challenge it, it might appear petty, or at least would be spun as such by the Clinton supporters. On the other hand, if he believes he has a legitimate concern about the calculations used to distribute the delegates and given how close the results were, then it might be worth it. That's because it can be important later to have your people be the delegates to the county and later conventions," University of Iowa Professor Timothy Hagle told LawNewz.com. As for whether what happened amounted to "fraud," Hagle said "unless there was a purposeful undercount or fudging the calculation to distribute the delegates it would [not] seem to rise to the level of fraud."
Another concern by some critics, the precinct chair also told us that the vote counting app wasn't accepting his attempts to input the data.
"However, I was readily able to use the old phone-in system that was maintained in back-up for just such a reporting issue," Gentsch said.
[screenshot VIA CSPAN]
Have a tip we should know? [email protected]
Rachel Stockman - President / On Air Host