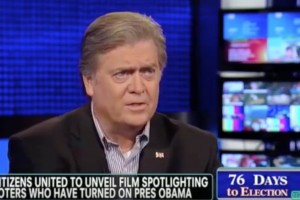 The floodgates are starting to open up on Donald Trump's new campaign CEO, Stephen Bannon, who used to run Breitbart.com. Reporters are now digging through old records from the 1990's.  Several media outlets discovered that back in 1996, Bannon was charged with misdemeanor domestic violence, battery and dissuading a witness.
According to a Santa Monica police report, first obtained by Politico , his ex-wife claimed that Bannon "pulled at her neck and wrist" and " pulled her into the car" during a fight over the couple's money situation. One officer, noted in the report, seeing marks on his ex-wife's body after the incident.  Police also said Bannon destroyed a phone during the argument. His ex-wife (who is not being named) reported, that Bannon "jumped over her and the twins (their children) to grab the phone from her. Once he got the phone, he threw it across the room."
BANNON's ex-wife said he was repeatedly violent with her, mocked her in distress https://t.co/80U12larlt @Hadas_Gold @BresPolitico bombshell

— Alex Burns (@alexburnsNYT) August 26, 2016
A Bannon spokesperson told Politico that he was never interviewed by police, he did plead "not guilty" to the charges. The charges were eventually dismissed after his ex-wife failed to show up to court. 
Notable —— Trump camp did not comment on Bannon domestic violence charges. Went to spox who works w/ Breitbart https://t.co/JZyARUM5EA

— Hadas Gold (@Hadas_Gold) August 26, 2016
"The bottom line is he has a great relationship with the twins, he has a great relationship with the ex-wife, he still supports them," Alexandra Preate, Bannon's spokeswoman, told Politico. 
According to the police report, his ex-wife told police that the two had a history of physical fights. The report from the 1996 incident said:
"In the beginning of their relationship, she said they [had] 3 or 4 argument that became physical and they had been going to counseling. There has not been any physical abuse in their arguments for about the past 4 years. [REDACTED] said they have been arguing a lot, but no violence,"
Several weeks after Trump appointed Paul Manafort to campaign manager, news emerged about his alleged connections to pro-Russian forces in the Ukraine. He was forced to resign earlier this month. No word yet on how Trump will respond to this latest report.
I don't like to make predictions but I'll try this one: Trump will not fire Bannon over these domestic violence charges

— Judd Legum (@JuddLegum) August 26, 2016
Have a tip we should know? [email protected]
Rachel Stockman - President / On Air Host