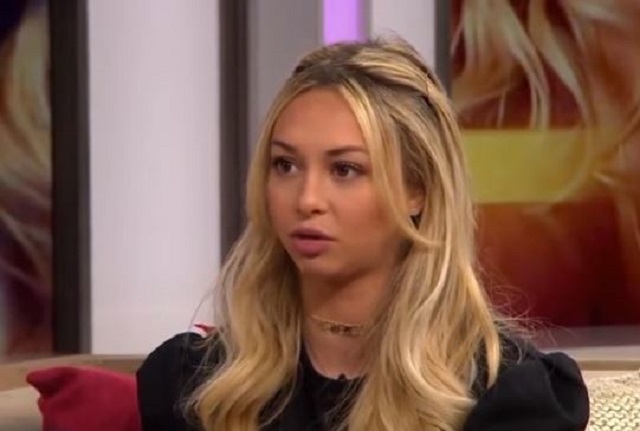 Earlier this week, news broke that a producer for reality show "Bachelor in Paradise" filed an internal complaint about alleged sexual activity that raised suspicion of a possible assault. Now, contestant Corinne Olympios is speaking about the incident, and says she's hired a lawyer.
Olympios discussed what happened with TMZ, saying she doesn't remember much from the night in question, but that she knows "something bad obviously took place." Early reports said that she and fellow contestant DeMario Jackson had both been drinking, and engaged in sexual activity in a swimming pool while cameras were rolling. Jackson claims that Olympios initiated it, but witnesses were concerned that Olympios was too drunk to consent.
Upon hearing that Olympios might have been in an impaired state, a producer filed a complaint with Warner Bros., which then shut down production pending an investigation. The show, which was supposed to air the new season starting in August, assembles contestants who had previously been on "The Bachelor" and the "The Bachelorette" in a beach setting, encouraging them to pair up.
"As a woman, this is my worst nightmare," Olympios said. "It has now become my reality." She added that she has been seeking therapy to deal with trauma she suffered, and has hired an attorney "to obtain justice." TMZ reports that Olympios has retained the services of famed entertainment lawyer Marty Singer. LawNewz.com contacted Singer's office for comment but he could not be reached.
"I am a victim and have spent the last week trying to make sense of what happened," Olympios said.
Jackson defended himself in a statement to People, saying, "It's unfortunate that my character and family name has been assassinated this past week with false claims and malicious allegations." He added, "I will be taking swift and appropriate legal action until my name is cleared and, per the advice of legal counsel, will be seeking all available remedies entitled to me under the laws.
In addition to the he-said-she-said nature of the allegations, both parties have documented histories on reality television that could potentially lead the public—or a jury— to believe one story over another. As our friends at GossipCop.com discuss, Olympios was portrayed as aggressive in the most recent season of "The Bachelor," while Jackson was shown to be a liar who cheated on his girlfriend in the current season of "The Bachelorette."
Of course, reality shows are notorious for using crafty editing to advance storylines and treat certain contestants as villains, so their appearances on past shows would not necessarily be relevant in future litigation.
Note: This article has been updated.
[Screengrab via Access Hollywood]
Have a tip we should know? [email protected]