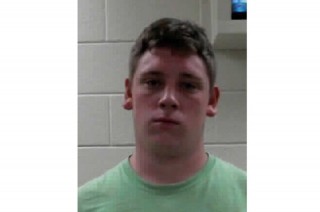 A 17-year-old high school student tried to recruit someone to kill two classmates, but was caught when he allegedly tried to pay an undercover officer to do the job. According to the Sheriff's Office in Pickens County, Georgia, they received a tip that Morgan Miles Morris had been trying to recruit someone for the killings.
After learning about the plot, the Sheriff had undercover officers meet with Morris, who gave information for how to go about killing the individuals. The Atlanta Journal-Constitution reported that Morris offered one of the officers $12,000 to kill the students and their families.
Detectives later executed a warrant to search Morris' home, and found corroborating evidence, which was not described by the Sheriff's office.
Morris was arrested on Wednesday and charged as an adult with criminal solicitation to commit murder. The Sheriff's Office notified the would-be victims of the foiled plot.
[Image via Pickens County Georgia Sheriff's Office]
Have a tip we should know? [email protected]