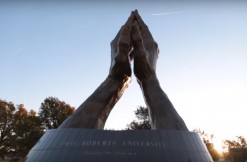 A former student says administrators are keeping her from re-enrolling at Oral Roberts University because she married a woman.
"You shouldn't be persecuted for being married to someone that you love," Sabrina Bradford, 30, told Tulsa World. "I believe that we were all created in God's image and likeness. I can understand not wanting to support the idea of same-sex marriage, but when it comes to reality, this is an educational system—whether you have a personal bias against homosexuals or not, you accepted me as a student."
Bradford said the school started becoming difficult after learning about her same-sex marriage on Aug. 25, 2015 from a financial aid application. Two days later, the Vice President for Student Life and the Dean of Women reportedly told Bradford she couldn't enroll again.
"I think there's some due-process issues and some administrative issues in the sense that they kind of put her in limbo," her attorney, Alyssa Bryant, told Tulsa World. "They didn't tell her she was suspended or expelled. When she asked why, they wouldn't tell her in writing. Everything was kept verbal initially."
Bradford married her wife, Ophelia, on Jan. 29, 2015. That was three years into her time at Oral Roberts University, where she sought a social work degree. ORU's namesake was a prominent televangelist, and that has left a defining mark on the school. Take the Code of Honor Pledge, which Bradford signed when enrolling. By signing it, students agree to not have "unscriptural sexual acts, which include any homosexual activity and sexual intercourse with one who is not my spouse."
Bryant said the school's actions might violate Title IX, a law that prohibits sex-based discrimination in schools that receive federal funding. A Department of Education spokesperson told Tulsa World that ORU has an exemption to Title IX. Such religious schools can apply for an exemption from parts of Title IX that don't gel with their beliefs.
ORU has been pretty mum about the case. When asked about it by Tulsa World, they cited the Family Educational Rights and Privacy Act when declining comment. However, Ossie Mills, vice president of communications and marketing, said the Code of Honor Pledge was key here.
"A student's signature on the honor code constitutes acceptance of the entire honor code and completes a contract between the student and ORU, which is a prerequisite for matriculation as well as the student's continued association with ORU," Mills said.
Bradford said the school's decision to keep her out caused the Oklahoma Department of Human Services to revoke a job offer. She said her education and job problems strained her life and marriage, causing her to move to Connecticut to stay with family.
Bryant said Bradford has yet to decide whether to sue.
[screengrab via Oral Roberts University]
–
Follow Alberto Luperon on Twitter (@Alberto Luperon)
Have a tip we should know? [email protected]