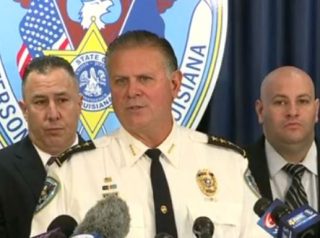 Sheriff Newell Normand of Jefferson Parish, Louisiana held a press conference addressing the arrest of Ronald Gasser, the suspect in the shooting death of former NFL player Joe McKnight. McKnight was killed on Thursday afternoon, and Gasser admitted to shooting him, but claimed self-defense. Law enforcement officials spoke to Gasser that day before releasing him without charges. The sheriff's office came under fire for that decision, but Sheriff Normand had some strong words for the critics at Tuesday's.
"For those who have criticized the men and women of this organization and the strategies we made relative to that: tough, I don't care," Normand boldly stated. He went on to lambaste those who blasted his office and other officials for not handling the case the way they would have liked. "It's not about the right thing, it's not about justice, and it's not about the process," he said, characterizing the attitude of his detractors, saying that they only wanted results when and how they wanted. Normand criticized how people lacked the patience to let the sheriff's office do their job.
Sheriff Normand went on to rail against those who harshly spoke out against officials, quoting comments riddled with profanity and slurs directed towards the authorities, such as, "You ass-kissing f***** who has done little for our community." And that was one of the nicer comments. "Shame on you!" Normand reprimanded.
WATCH, courtesy of TMZ (warning: strong language):

Defending his methods, Normand said that by being patient and conducting business as they had, they were able to make an arrest. Officers questioned Gasser for 12 hours, two of which were while he was in custody. Gasser never requested an attorney and cooperated with officers, who were able to get Gasser to sign a consent form to let them search his property. Sheriff Normand said that his office was able to make more progress in the case using their methods than they would have had they handled the situation differently.
[Image via screengrab]
Have a tip we should know? [email protected]