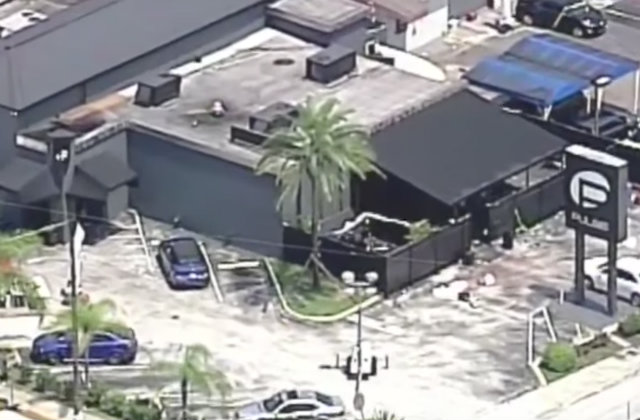 ORLANDO, Fla. (AP) — Church bells will toll throughout the Orlando area as residents reflect on the 49 patrons killed during a massacre at the gay nightclub Pulse in the worst mass shooting in recent U.S. history.
Starting in the early hours Monday, and continuing almost 24 hours later, survivors, victims' families, city officials and central Florida residents will remember the victims with four services.
The first service is closed to the public, and it's being held at the nightclub for survivors, local officials and club employees. It will overlap with the exact time that gunman Omar Mateen began firing shots — a little after 2 a.m. on June 12, 2016.
It is followed by another midday service at the nightclub, and an evening gathering in the heart of downtown Orlando. A final, music-filled late-night service is being held at the nightclub.
Mateen pledged allegiance to the Islamic State during the attack and was eventually killed by police during a shootout after a three-hour standoff. His wife, Noor Salman, is facing charges of aiding and abetting and obstruction in federal court, and she has pleaded not guilty to helping her husband.
On Monday, local churches throughout Orlando have arranged for church bells to ring simultaneously, 49 times at noon.
Local officials also have declared the one-year mark as a day of "love and kindness," and they are encouraging residents to volunteer or perform acts of compassion.
An exhibit of artwork collected from memorial sites set up around Orlando after the massacre will be shown at the Orange County History Center, and a giant rainbow, gay-pride flag will be unveiled at the Orange County government building.
Not all the survivors planned to attend the events, saying it would be too difficult.
"There's going to be so many things going on that I feel it will be overwhelming for those affected," said Ricardo Negron, who managed to escape the club without physical harm after the shooting started.
Demetrice Naulings said he would likely go to some of the commemorative events but he wasn't looking forward to it. Naulings also escaped from the club but lost his best friend, who was fatally shot.
"Seeing all of the other people from the club, I'm pretty sure the hugs will be teary. I'm not looking forward to that," Naulings said. "I'm not looking for 'I'm sorry.' I feel like that doesn't help me. I feel like that is pity and I don't want pity."
[Screengrab via WCCO]
Have a tip we should know? [email protected]