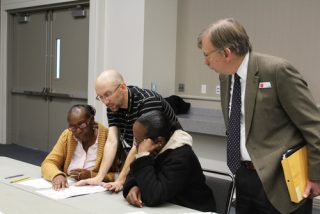 Here's a strange voting story out of Michigan that definitely deserves more attention. After The Detroit News requested the data, they discovered voting machines in more than one-third of all Detroit precincts registered more votes than they should have during the 2016 presidential election. Hillary Clinton overwhelmingly beat out Donald Trump in Detroit and Wayne County. Clinton got 519,444 votes to Donald Trump's 228, 993 in that area, even though he ultimately won the state.
So why did this happen? Officials blame human error, but agree the findings are quite troubling. According to the newspaper report, optical scanners at 37 percent of the city's precincts tabulated "more ballots than the number of voters tallied by workers in the poll books."
"There's always going to be small problems to some degree, but we didn't expect the degree of problem we saw in Detroit. This isn't normal," Krista Haroutunian from Wayne County Board of Canvassers, told the newspaper.  The Michigan Secretary of State 's election director announced plans for an audit of the election results.
Michigan was one of the state's that Jill Stein targeted for a recount, but a federal judge put an end to a recount last week. The Michigan State Court of Appeals said the recount should never have started because Stein was not an "aggrieved" candidate. The Michigan Supreme Court refused to take up Stein's appeal.
"More evidence election administration in Detroit is a national embarrassment," University of California-Irvine Law Professor Rick Hasen said in his election blog.  "I don't suspect malfeasance, but rather incompetence. There needs to be an audit. There needs to be better training. And there needs to be rolling out of better voting equipment, which I know is planned."
[image via shutterstock]
Have a tip we should know? [email protected]
Rachel Stockman - President / On Air Host