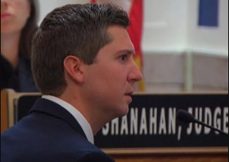 Attorneys for a white police officer who fatally shot an unarmed black motorist are asking an Ohio judge to dismiss the case on the eve of his murder retrial, claiming the county prosecutor violated a gag order.
Ray Tensing's defense filed their motion Wednesday less than two hours after WCPO-TV in Cincinnati posted a story in which Hamilton County Prosecutor Joe Deters is quoted about the case, suggesting that Judge Leslie Ghiz could add lesser charges to the original charges of murder and voluntary manslaughter.
The motion was obtained by The Associated Press.
The previous jury couldn't reach a verdict. Prospective retrial jurors are scheduled to report Thursday.
The former University of Cincinnati officer testified he feared for his life when Samuel DuBose tried to drive away during a 2015 traffic stop.
Have a tip we should know? [email protected]