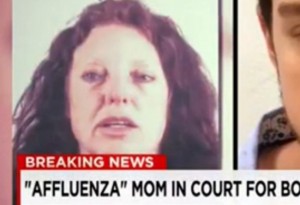 Affluenza Mom, Tonya Couch, was released Tuesday morning after posting a $75,000 bail. Couch had been arrested for helping her son, Ethan, escape the country after he no-showed a Dec. 10 meeting with his probation officer.
Ethan Couch was serving a 10-year probation for killing four people while intoxicated in a 2014 car wreck. His lawyer tried to defend him by saying he had 'affluenza,' the inability to be responsible because of his privileged upbringing.
Mother and son were arrested in December in Puerto Vallarta, a Mexican resort town, whether Ethan reportedly went to strip clubs and they lost their dog. Tonya returned to the U.S. while her son is still fighting extradition. (Because Mexican prisons are too nice to leave?)
At a Monday bail hearing, Couch said that she no longer had the money to pay her $1 million bail. The judge reduced bail because she had no prior criminal history. She's ordered to stay under 24/7 house arrest while staying with her son, Steven McWilliams, since she's got a proven history of being a flight risk. Wouldn't want her to run to Mexico again.
[h/t ABC 6]
–
>> Follow Alberto Luperon on Twitter (@Alberto Luperon)
Have a tip we should know? [email protected]