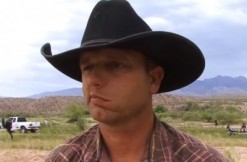 Breaking news: Jail inmates aren't allowed to have guns!
Ryan Bundy, a ringleader of the Oregon Militiamen who took over a federal building in Oregon, said his right to bear arms has been violated.
"My Second Amendment rights are being violated," he wrote in a status report filed Tuesday in the U.S. District Court for the District of Oregon. "I never waived that right."
Outrageous! Despicable! Inconceivable!
He also wrote his freedom of assembly "is being violated" because "I'm not allowed to see my brother and move about."
Bundy and and brother Ammon have been complaining about conditions in Multnomah County Detention Center, according to the report.
"Despite being presumed innocent, these defendants are treated as harshly and the same as convicted felons with whom they are comingled and housed," the report reads.
In fact, they are housed in single cells and are allowed out of their cells to use a common area for a certain number of hours per day, depending on their classification. During that "walk time" each person is expected to address all hygiene needs, make phone calls, get exercise, send requests to jail staff and address all other personal business. The only tables in the unit are in the common room, so the only access to a traditional desk-and-chair sitting position is in that common room, shared with others for a limited time each day. Each man spends the rest of each day locked in his cell.
Though the Bundys are represented by the Arnold Law Firm in Oregon, they are reportedly taking a really proactive role in their defense.
"The defendants are denied any provision for electronic review of discovery, denied access to any typewriter or computer for drafting, and are allowed only limited access to writing devices and a few pages of paper at a time," the status reports reads. The brothers complain they aren't allowed to use the Internet for research purposes, but the jail responded, saying the building simply doesn't have wi-fi.
MCSO is willing to allow inmates to use the law library in excess of 6 hours per week when other inmates cancel their visits. In addition to the physical plant issues related to providing internet access, unfettered/unmonitored internet access would be a substantial threat to facility security and management. MCSO does not have the staff or resources to monitor this sort of access appropriately. It is the understanding of MCSO that the Court has suggested that the Government may need to provide a location with appropriate equipment and supplies outside of the MCSO jail for defendants to view voluminous discovery and case-related material, in addition to preparing for their defense. MCSO is in agreement with the Court and is committed to producing defendants as necessary for USM transport from MCSO facilities for this purpose. We believe this to be a fa more reasonable, manageable and appropriate solution as MCSO does not have the facilities, infrastructure to support the equipment or level/type of access requested by defendants.
In January, the Bundys and other anti-federal government militiamen took over a federal building in Oregon. They claimed the feds were taking over too much land. Feds figuratively broke their back, arresting the ringleaders—including both Bundy brothers—later that month, in a confrontation that left one man, Robert "LaVoy" Finicum, dead. Ammon and Ryan Bundy were denied bail as they face charges for their alleged role in a tense 2014 standoff between the feds and their father, Cliven Bundy.
You can read full report, obtained by LawNewz.com, here.
–
Follow Alberto Luperon on Twitter (@Alberto Luperon)
Have a tip we should know? [email protected]