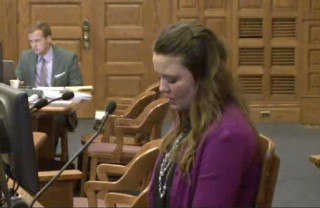 A jury in Stark County, Ohio can not come to a decision in the Newlywed Murder trial of Colleen McKernan. The Judge declared a mistrial. After both sides gave their closing arguments and the prosecution gave a final rebuttal, the jurors deliberated more than 2 days and ultimately couldn't reach a unanimous decision on whether McKernan is guilty of murdering her husband Rob on New Year's Eve 2014. McKernan admitted to shooting her husband, but claimed it was self-defense.
Both sides presented strong arguments in the case. The defense argued that McKernan was a battered woman, who had suffered prior abuse from her husband. They said that she shot him on the night in question after a dispute escalated and he grabbed her and forced her into their home on their way back from a party. They claimed that McKernan tried to call 911, but Rob took her phone away and threatened her, shaking her. The defense said it was only then that McKernan picked up a gun, and after Rob came towards her orders to back away, she pulled the trigger.
The prosecution worked to discredit McKernan's side of the story, painting her as an aggressor who had punched her husband in the past. During his closing argument, prosecutor Dennis Barr described McKernan as an "angry, intoxicated Air Force security officer." Both Colleen and Rob McKernan had been drinking the night of the shooting, with a witness saying they both appeared intoxicated. Barr also cast doubt over the authenticity of McKernan's emotional testimony. He directly confronted her at one point about appearing to cry but not actually tearing.
This was the second trial and the second hung jury for McKernan. Prosecutors will have to decide if they will re-try her for a third time.
Have a tip we should know? [email protected]