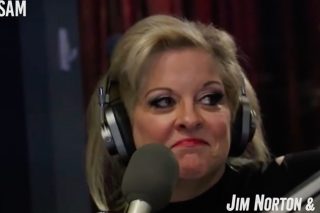 The nearly 13 minute interview with Nancy Grace on the Jim Norton and Sam Roberts Show on Sirius Radio was beyond intense after the hosts started quizzing her about why she "capitalized on dead kids."  It ended abruptly with Grace leaving the studios in a huff.  "Oops, I think our time is up, bye-bye, take care" Grace said. "You can leave if you want, we aren't going to kill ourselves after the interview," host Jim Norton retorted. The other host tweeted this out shortly after Tuesday's interview:
This was as close as I came to a Nancy Grace photo-op on @JimandSamShow today- did I say the wrong thing? pic.twitter.com/uukoAQPDjg

— Sam Roberts (@notsam) October 11, 2016
WATCH FULL INTERVIEW HERE:
Grace was on the program to promote a new Hallmark show, Hailey Dean Mystery: Murder and Love, which is based on Nancy Grace's book series. Instead, the interview immediately went haywire when one of the hosts asked her if she "was asked to leave" HLN or picked to do so.  The interview continued with more questions about why Grace capitalizes on murder and crime. They also asked her about a slander lawsuit that Michael Skakel filed against her and CNN years ago.
"The two of you are so anxious to just throw a shot at me," she said.  "You haven't asked one decent question since I've walked in here. Everything both of you have asked has been an attack."
The interview ended with Jim Norton asking Grace, "how do you justify latching on to hashtags and things without saying you are capitalizing on dead kids?"
"I'll give you another honest answer and my answer is my program is to help solve unsolved homicides, and find missing people which we have done. Now if you don't like that, and you don't like the way I do it, then don't watch it," she said.
[screengrab via Jim Norton & Sam Roberts Show]
Have a tip we should know? [email protected]
Rachel Stockman - President / On Air Host