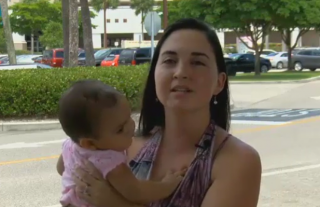 A group of almost 50 women attending a screening of the new movie, "Bad Moms" were not pleased with their experience at the Regal theater in Fort Myers, Florida. Some, who had brought their young children with them, were told to leave the R-rated movie. As it turns out the theater doesn't allow kids under 6 to see R-rated flicks, even with parents, but that's not the excuse the theater gave one mother.
Juliana Valverde brought her baby with her, and was breastfeeding, when a theater employee approached her.
"[He] was like 'You can either cover up or you can leave.' I was just, at that point, I was so hurt and walked away. Tears came down.," she told WTKR. Women in Florida are permitted to breastfeed in any public or private place, according to state law. "I don't need anyone's approval to feed my baby," Valverde said.
It's unclear if Valverde was targeted because she was breastfeeding or because she was with a young child. LawNewz.com reached out to the theater. The manager would not comment on the matter, and a request for comment from Regal's media department has yet to be answered.
[Image via screengrab]
Have a tip we should know? [email protected]