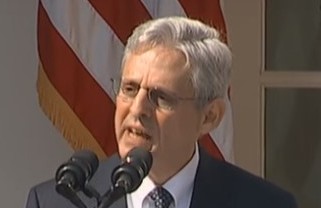 President Obama's replacement for Justice Antonin Scalia began hearing cases from the bench again on Wednesday, but it was not from the Supreme Court.  Instead, Judge Merrick Garland made his return to the D.C. Circuit Court on Wednesday morning and resumed his term as the Chief Judge.
Garland left the D.C. Circuit in March 2016 after President Obama nominated him to replace the late Antonin Scalia, who died suddenly in February 2016.
Almost immediately, Republican leadership in the Senate announced they would not hold hearings on another Obama appointee, saying it should be up to the new president to appoint a Supreme Court replacement.
Some Republicans even refused to meet with Garland when he made the traditional rounds to meet Senators on Capitol Hill.
It was a risky political move that paid off big when Trump defied almost all media polls and beat Hillary Clinton on Election Day.  Republicans also held control of the Senate, almost ensuring Trump's nominee (expected to be announced within the next few weeks) will get through the nomination process.
Former Nevada Senator Harry Reid, a Democrat, even paved the way for Republicans to do away with the filibuster entirely.  Such a move would enable Republicans to get almost anyone through with a bare majority of Senate votes, rather than the 60 votes traditionally needed to get a nominee through.
[image via screengrab]
Have a tip we should know? [email protected]