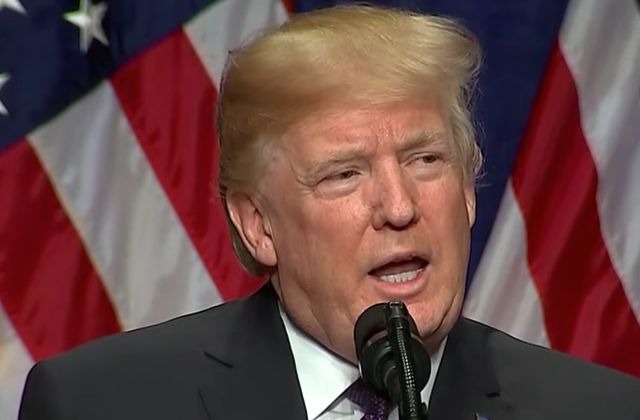 The latest news that five months' worth of text messages between FBI agent Peter Strzok and DOJ attorney Lisa Page is sure to make supporters of President Donald Trump continue to claim that the Russia investigation is a politically-motivated scheme. More importantly, however, Trump's lawyers will now be able to do the same.
Strzok has already been outed as anti-Trump, leading to his dismissal from the probe, and his past communications with Page showed a potential Justice Department bias towards Hillary Clinton. The fact that now nearly half a year's worth of text messages between Strzok and Page during the time leading up to Robert Mueller's appointment as Special Counsel weren't preserved by the Justice Department will surely fuel motions from Team Trump's lawyers against the investigation.
Months of text messages don't just accidentally disappear. One past conversation between Strzok and Page indicated that former Attorney General Loretta Lynch knew there would be no charges filed against Clinton well before that investigation ended. Given the significant evidence of impropriety in the Clinton case, a foregone conclusion of innocence before the FBI wrapped up their investigation looks shady at best. Trump's lawyers will surely argue that after those messages came to light, the DOJ intentionally "lost" those five months' worth of other messages.
Look for Paul Manafort to jump all over this. He's already fighting his indictment, claiming that Mueller is overstepping his authority and shouldn't be running the investigation. Throw in this evidence that the investigation may have been tainted before Mueller even took over, and that the DOJ could be covering up damaging information, and a motion to dismiss alleging prosecutorial misconduct is a near certainty. FBI Agent Strzok was reportedly heading up the Manafort investigation before he was taken off the Mueller probe. Manafort's attorney might try to say that the missing text messages could contain exculpatory evidence (or evidence favorable to the defendant) and therefore the court should get to the bottom of what the two said.  However, two former federal prosecutors who spoke to Law&Crime both contend it would be difficult to get the entire indictment dismissed based on the text messages alone.
"It depends on what FBI's retention policy is for text messages. It does certainly raise questions as to how these five months came up missing," explained Bill Thomas, a former federal prosecutor. "However, the court is not going to just dismiss the case. If it comes to it, the judge may hold a hearing to get to that information through calling witnesses. Dismissal is the nuclear option, it would have to be something very very egregious for a court to dismiss the case."
The same would go for any future defendants in the case. If other members of the Trump campaign gets hit with charges, they'll just throw these missing texts back as evidence that the probe was tainted from the beginning.
Of course, lawyers will have to find some sort of evidence of foul play for this to mean anything. That could include proof that the messages were intentionally deleted, recovery of some of the texts (should they include incriminating information), or other evidence of political bias in the investigation.
"Though it doesn't look good and will only further embolden conspiracy theorists I don't see how this could be used to attack any charges already filed or future charges," former federal prosecutor Henry E. Hockeimer explained to Law&Crime.  "A judge will focus on whether clear evidence supports the charges in response to a motion to dismiss.  Perhaps at trial this stuff could be used to cross examine the agent for purposes of showing bias."
Barring the discovery of evidence favorable to the defendants, this development will likely result in a slight headache for Mueller as his team responds to court filings by claiming that the investigation is on the up and up, and that Strzok's dismissal was proof that politics have no place in the Russia probe.
[Image via ABC screengrab]
Have a tip we should know? [email protected]