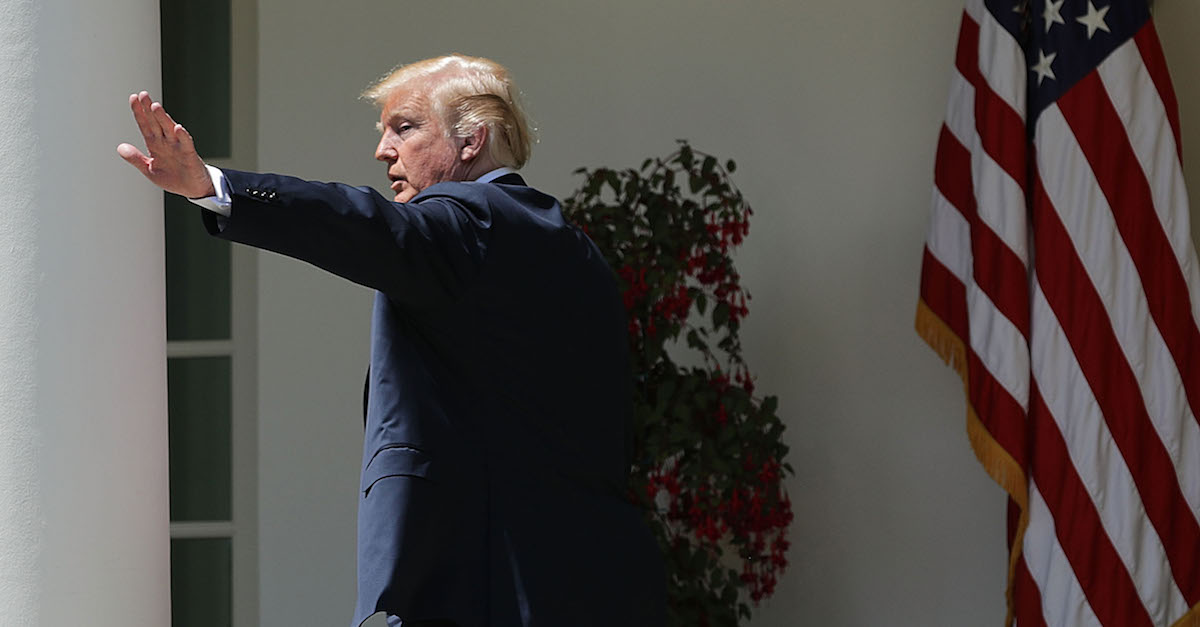 On Thursday, a federal court issued an order demanding that the Department of Justice (DOJ) provide classified information regarding allegations that the U.S. government eavesdropped on attorney-client meetings between detainees and their counsel at Guantánamo Bay.
The unusual order issued by Judges Patricia Millett, Cornelia Pillard and Robert Wilkins with the U.S. Court of Appeals for the District of Columbia makes the following demand:
It is FURTHER ORDERED that the government submit to the court by Noon on Monday, May 21, 2018, in accordance with procedures governing classified information if warranted, a declaration describing any and all intrusions that have occurred, may have occurred, or that the government believes foreseeably could occur into the confidentiality of (i) petitioners' communications with their client, (ii) petitioners' communications with other lawyers, legal personnel, support personnel, or third parties as part of their representation of their client, or (iii) petitioners' legal work product, legal files, or legal records (electronic or otherwise).
The three-page document also demands that the federal government turn over "Any classified or unclassified information provided by the government to Brigadier General John G. Baker, in his capacity as Chief Defense Counsel for the Military Commission Defense Organization, regarding alleged breaches, accidental or otherwise, of attorney-client confidentiality and/or work product privilege pertaining to the representation by attorneys under his supervision of detainees…"
The order was issued–and also addresses–a motion by defense counsel to withdraw from representing Abd al Rahim al Nashiri after a microphone was discovered in the room where attorneys meet with clients at Guantánamo Bay. A secondary question posed asked whether those attorneys could participate in a Pentagon review over their right to resign. The court is currently ambivalent on those overarching questions and has asked both sides to submit briefs on the matters.
The case itself, since the discovery of the surreptitious–and possibly illicit–microphone, is on indefinite hiatus and the order also notes that the proceedings before it are currently "administratively stayed." The broader case was put on hold on February 16 after defense counsel presented their spying allegations and submitted motions to withdraw from representing al Nashiri.
Last August, members of Nashiri's defense team inspected their allegedly confidential attorney-client meeting room, unscrewed what looked like a light-switch plate and discovered a hidden microphone. Contemporary accounts by anonymous sources noted that Nashiri's defense team and U.S. troops who accompanied them found monitoring equipment in two nearby rooms. Photographs were taken and a request was made to conduct a full investigation. Judge Spath refused that request in a classified ruling and told Nashiri's defense team not to mention what they saw–to either their client or the public.
A landmark ruling in its own right, the three-judge opinion marks the first instance of a U.S. civilian court asserting authority over and interest into questions of confidentiality and the alleged evisceration of the attorney-client privilege at Guantánamo Bay.
What the court might do with such information if the government complies is not immediately clear. The possibility of the Trump administration's refusal to abide by the court order would likely set up a showdown at the U.S. Supreme Court.
[image via by Chip Somodevilla/Getty Images]
Follow Colin Kalmbacher on Twitter: @colinkalmbacher
Have a tip we should know? [email protected]