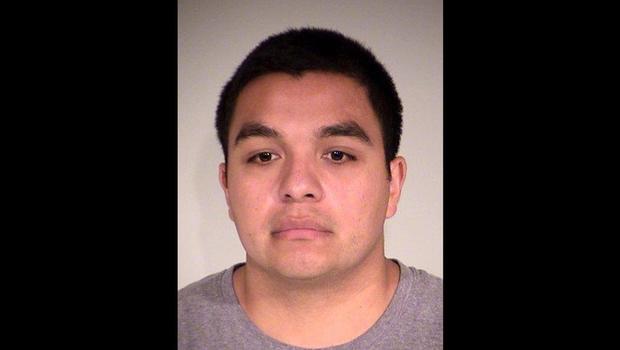 ST. PAUL, Minn. (AP) — Bullets fired by an officer who killed a black motorist last July came close to the motorist's girlfriend and her young daughter, who were in the car, a lab supervisor at the Minnesota Bureau of Criminal Apprehension testified Wednesday.
Lindsey Garfield testified in the trial of St. Anthony police officer Jeronimo Yanez, who is charged with manslaughter in the death of Philando Castile. Yanez shot Castile during a traffic stop in a St. Paul suburb in July. Yanez, 29, is also charged with two counts of intentional discharge of a firearm for endangering Castile's girlfriend, Diamond Reynolds, and Reynolds' then-4-year-old daughter.
Yanez and another officer had stopped Castile over a broken taillight when the 32-year-old elementary school cafeteria worker informed Yanez he was carrying a gun. Within seconds, Yanez fired seven shots and Castile was mortally wounded.
The shooting gained attention when Reynolds began livestreaming its aftermath on Facebook. Prosecutors say Yanez acted unreasonably, but the defense says he had to make a split-second decision to protect himself.
On Wednesday, Garfield explained the trajectory of Yanez's bullets. She said photos taken of the car showed a bullet came to rest in the center armrest, one or two inches from where Reynolds was sitting.
Investigators also reconstructed the path of a bullet that exited the driver's seat and entered the rear seat where Reynolds' daughter was.
Garfield also said that photos show Castile's center brake light was out. Yanez used that as a reason for the traffic stop, after he thought that Castile resembled a suspect in a recent armed robbery.
Jurors have also seen video from Yanez's squad car, which shows the shooting. In audio recorded after the shooting, Yanez, who is Latino, is heard telling a supervising officer that Castile went to grab something and that Castile's grip seemed wider than a wallet would be.
"I don't know where the gun was," Yanez says. "He didn't tell me where the (expletive) gun was." Seconds later, he added, "I told him to take his (expletive) hand off his gun."
A jury of 15, including three alternates, is hearing the case in Ramsey County District Court. Two of the 15 are black.
Written by Steve Karnowski, Associated Press
Have a tip we should know? [email protected]