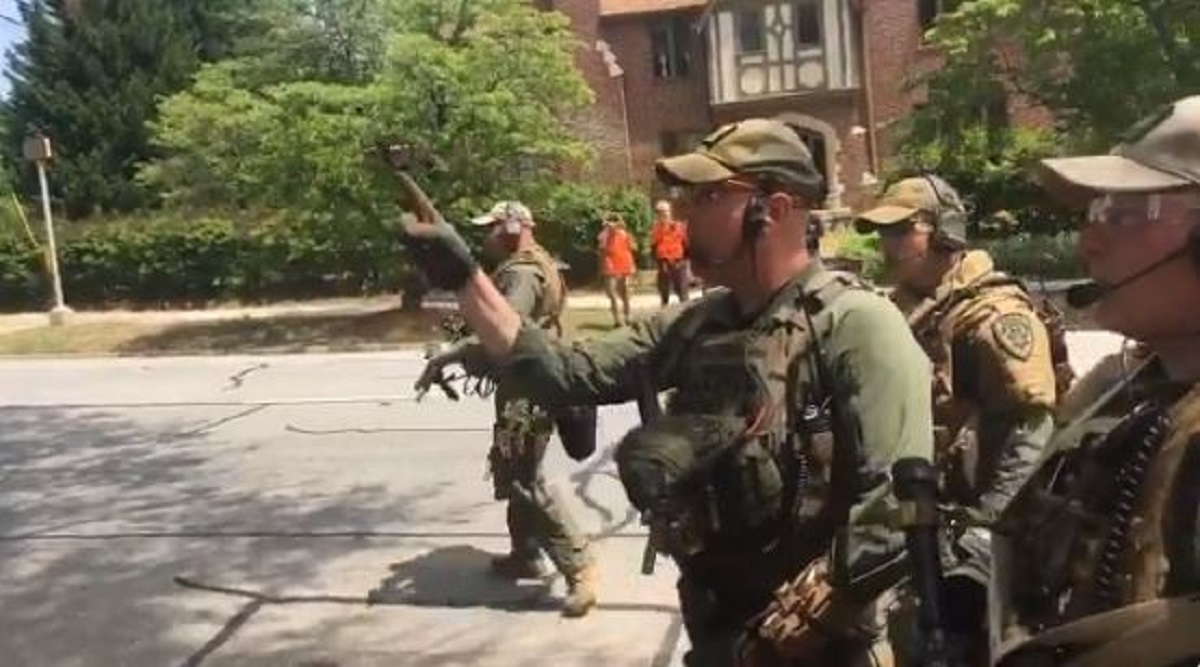 In an ironic turn of events, counter-protesters who sought to combat a neo-Nazi demonstration in Newnan, Georgia over the weekend were arrested, allegedly in violation of a law meant to combat the Ku Klux Klan. Officers reportedly told the anti-racism activists to remove bandannas and masks that covered their faces, and those who didn't comply were taken into custody.
"State law requires you to remove your masks right now," an officer could be heard warning the crowd in a video."You will do it right now or you will be arrested."
Tense situation in #Newnan. Cops telling anti-fascists to remove masks or be arrested pic.twitter.com/dj7F9UW8EY

— Christopher Mathias (@letsgomathias) April 21, 2018
Protesters did not appreciate or obey the warning, responding with chants of, "Cops and Nazis sitting in a tree, K-I-S-S-I-N-G."
That law cited by the officer is the Anti-Mask Act, which was passed in 1951. It says that anyone wearing a mask or other face covering that conceals the wearer's identity on public property (or on private property without permission) is guilty of a misdemeanor. It was originally meant to combat the KKK, known for wearing hoods that covered their faces to remain anonymous.
The Huffington Post reported that about 10 out of approximately 50 counter-protesters were arrested, and that many in the crowd were associated with local antifa organizations. They outnumbered the neo-Nazi demonstrators, none of whom were arrested.
Newnan Police Chief D.L. "Buster" Meadows told the local Newnan Times-Herald, "Neither one of these groups represent who we are and what we stand for."
[Image via Twitter screengrab]
Have a tip we should know? [email protected]