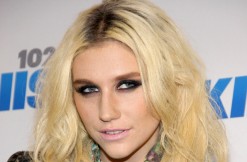 A judge recently denied Kesha Rose Sebert's request for a preliminary injunction suspending the singer's contract with Sony Records. According to that exclusive contract, she apparently must work with producer Luke Gottwald (known as Dr. Luke), who she says sexually assaulted her when she was 18. Alleged abuse by Gottwald went on for years, with the 28-year-old singer now wanting out.
Manhattan Supreme Court Justice Shirley Kornreich said Thursday that following Sebert's request would've violated New York State contact laws. Plus, she said Sony agreed to let Sebert get another producer.
Sebert's attorney, Mark Geragos, said that Sony's promise was weak because any songs made by another producer wouldn't have been promoted by the company, but Kornreich shot that claim down as "speculative."
Nonetheless, Kornreich isn't dismissing the suit, at least not yet. The lawyers at Thursday's hearing were also arguing about a motion to dismiss Sebert's abuse claims. Though the judge said Sebert's lawyers didn't provide detailed information, she put off making a decision about that aspect of the case.
As it stands now, Sebert is contractually obligated to make six more studio albums for Gottwald. No charges were ever filed against the producer. However, Gottwald did file a counter lawsuit against the singer, claiming she is trying to extort him.
[h/t New York Daily News]
[image of Kesha via Shutterstock]
–
Follow Alberto Luperon on Twitter (@Alberto Luperon)
Have a tip we should know? [email protected]