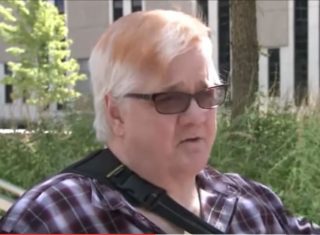 A U.S. Navy veteran who does not identify as male or female was unable to get a passport due to not checking off either gender on the application form. On Tuesday, U.S. District Court Judge R. Brooke Jackson sided with Dana Zzyym, ordering the U.S. State Department to reconsider Zzyym's application.
According to court documents, Zzyym was born with "ambiguous external sex characteristics," and no sex was designated on Zzyym's birth certificate. The document was later marked to say that Zzyym was male, when the parents decided to raise Zzyym as a boy, with the name Brian Orin Whitney. Zzyym's parents had their child undergo surgeries to reflect a male identity, but they resulted in scarring. They did not tell Zzyym about the ambiguous sexual characteristics at birth or the surgeries that followed.
Despite the official male identity, Zzymm identified as "intersex" and continues to do so. In 1995, after serving in the Navy in Beirut and the Persian Gulf, the former Whitney legally took the name Dana Alix Zzyym.
The complaint said that Zzyym developed suspicion of having been born with intersex features, and gained confirmation upon seeing a doctor at a VA hospital in 2009. Zzyym, who already did not identify as male, tried living as a woman, but stopped due to not identifying as female either.
In September 2014, Zzyym was invited to the International Intersex Forum in Mexico City, but was unable to obtain a passport which was necessary to go, due to not filling out the "sex" section of the passport application form. Zzyym has said that the application said that lying on the form could result in penalties for perjury, and marking male or female would have been a lie, opting to write "intersex" instead of checking "M" or "F."
Judge Jackson ruled that the State Department's "binary-only gender passport policy" when it came to passports was irrational, and ordered the government to reconsider Zzyym's application, given that "in every other respect Dana is qualified to receive a passport." Judge Jackson decided not to rule on the constitutionality of the Department's policy "unless and until it needs to."
Zzyym Order by LawNewz on Scribd
[Image via screengrab]
Have a tip we should know? [email protected]