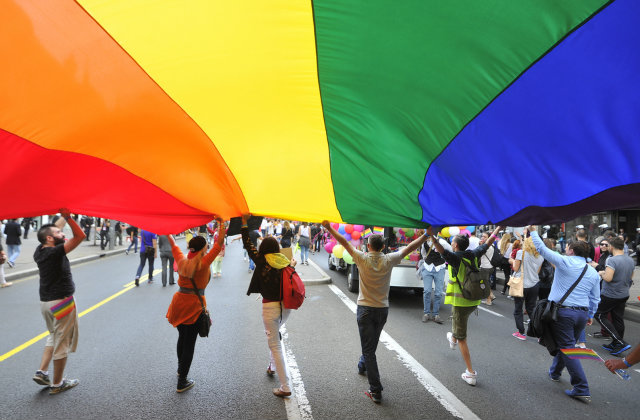 Kentucky Judge W. Mitchell Nance will no longer hear adoption cases involving gay or lesbian parents. That's because he thinks it is not in the child's best interest to be raised by a "practicing homosexual." In making this decision, he cited Kentucky law that calls on judges to recuse themselves if they have personal bias or prejudice about any party in the case. Nance made the announcement Thursday via a court order obtained by LawNewz.com.
Same sex adoptions are hardly unprecedented in Kentucky. The state's Supreme Court heard Mullins v. Picklesimer in 2010, and upheld the joint custody of a child between the birth mother and a second woman. (They had originally agreed to have the baby in the first place, and therefore found a sperm donor for artificial insemination.)
In an interview, Nance told The Glasgow Daily Times that he's only twice heard an adoption case involving same sex couples. The first time happened a few years ago, and he eventually recused himself after initially deciding to stay. Regarding another case from "two to three" months ago, he claimed to rule in favor of gay parents seeking to adopt. Nance didn't name the cases, and LawNewz.com couldn't independently verify the results.
He said the law is on his side, and allows him to pull back from these adoption situations. Nance cited the Kentucky Code of Judicial Conduct sections regarding personal bias and prejudice. The interview also mentioned that he pointed to U.S. Supreme Court and Kentucky Supreme Court cases regarding personal bias recusals, but didn't name the opinions. We reached out to Nance to learn more about his understanding of the issue, but a spokesperson told us on Monday that he now declined to comment.
His colleague promised the outlet that same couples won't be hurt by the decision. Judge John T. Alexander pointed out that the 43rd Judicial Circuit, which hears cases out of Barren and Metcalfe counties, features two divisions. He hears cases out of the first while Nance covers the second. Basically, Alexander will now hear all adoption cases involving gay and lesbian parents.
Nance has also said that he would decline if asked to handle a same-sex marriage although 2015's Supreme Court Obergefell v. Hodges made these unions legal nationwide. He claimed never to have been asked to perform such a ceremony.
The Family Foundation, a Kentucky organization against same-sex marriage, supported him in a statement published Friday.
"When adoption agencies abandon the idea that it is in the best interest of a child to grow up with both a mother and father, people can't expect judges who do believe that to be forced to bow the knee," said spokesman Martin Cothran. "Judges have a right of conscience like everyone else."
However, the ACLU of Kentucky lashed Nance in a statement obtained by LawNewz.com:
When Judge Nance took the oath of office, he vowed to act fairly and impartially. By issuing his recusal order, however, he has revealed that he is unable to do so. Moreover, Judge Nance has disgraced himself, the office he holds, and the state of Kentucky by perpetuating demonstrably false stereotypes about the fitness of LGBT individuals to be parents. The ACLU is exploring all options to address Judge Nance's recusal order.
This recusal situation might remind you of Kim Davis, a county clerk in Kentucky who famously refused to issue marriage licenses to same-sex couples, citing her religious beliefs. A federal appeals court dismissed her lawsuit against the state in April 2016 over the ensuing fight.
You can read Judge Nance's order below.
Judge W. Mitchell Nance Order by LawNewz on Scribd
Update – May 3, 9:33 a.m.: Added statements from The Family Foundation and ACLU.
[Image via Fotosr52 and Shutterstock]
Have a tip we should know? [email protected]