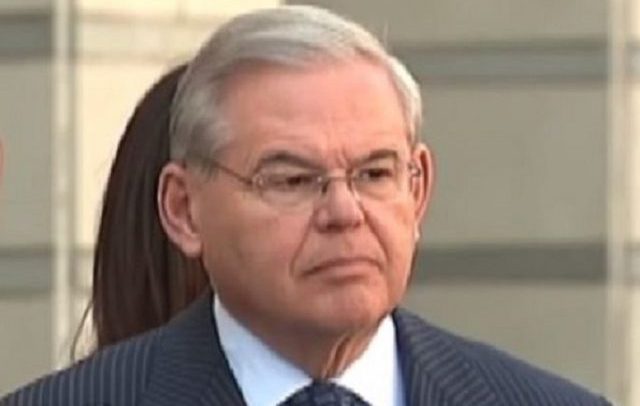 NEWARK, N.J. (AP) — For sheer entertainment value, the potentially titillating aspects of Sen. Bob Menendez's bribery trial — the lavish vacations paid for by a wealthy doctor and the doctor's efforts to get visas for reputed foreign girlfriends — have been eclipsed by the octogenarian jurist presiding over the trial and his verbal jousting with attorneys on both sides.
Two days into the lawmaker's expected two-month trial, U.S. District Judge William Walls has already referred to the government's questioning of a witness as "ridiculous," "junk" and "sheer nonsense." He told an attorney to "shut up" and jokingly compared himself to Torquemada, a titan of the Spanish Inquisition. He also has sprinkled references to classic movies including "All About Eve" and "A Bridge Too Far."
Those exchanges and others, made outside the presence of the jury, have enlivened a proceeding that certainly wasn't lacking for intrigue.
Menendez, New Jersey's Democratic senior senator, is charged with accepting gifts and campaign donations from Florida ophthalmologist Salomon Melgen over several years in exchange for pressuring government officials to help with Melgen's Medicare dispute, his company's port security contract in the Dominican Republic and the visas.
A conviction could alter the makeup of a deeply divided Senate if Menendez is expelled by a two-thirds vote or decides to step down. Republican Gov. Chris Christie, whose term ends on Jan. 16, 2018, would pick who would fill Menendez's seat if he is still in office.
With Justice Department attorneys on one side and a high-powered defense team led by former U.S. House minority counsel Abbe Lowell on the other, Walls seems loath to pass up an opportunity to remind them who is boss.
"A trial judge has total control over the courtroom, and any attorney who forgets that does so at his peril," said Rubin Sinins, a veteran defense lawyer who has practiced in federal court in New Jersey.
Michael Weinstein, a former Justice Department prosecutor in private practice, said Walls is known for maintaining tight control in his courtroom.
"He calls the balls and strikes fairly, he plays it straight down the line, but he wants counsel not to grandstand and to get to the point efficiently," Weinstein said.
The latter point was evident on Thursday when Walls interrupted prosecutor J.P. Cooney's methodical questioning of the trial's first witness, an FBI agent testifying about emails surrounding Menendez's stay at a $1,500-a-night Paris hotel in 2010, paid for with Melgen's American Express points.
Walls sent the jury out of the room and took the prosecution to task for, in his opinion, implying that Menendez stayed at the hotel to "shack up" with a female friend, a suggestion Cooney denied.
"Do you know why I laugh?" Walls asked at one point. "Because it's ridiculous what you are asserting."
"Even if you were writing a novel, your editor would strike it," he added. "That's junk."
Walls frequently took an avuncular tone during jury selection, eliciting chuckles when chatting with prospective jurors about their vocations and backgrounds. His mood soured, however, when it was revealed that a seventh-grade teacher who had been selected for the panel had sent a text message about the case.
"If you expect the seventh graders to follow your actions, why are you texting about the case?" he asked her. "So, you are really no good as a juror and you may not be any good as a teacher. I excuse you."
While Walls' harshest words for the attorneys have occurred out of the jury's presence, the residual effect can be damaging in some circumstances.
"A trial is about, in large part, the attorney's credibility in trying to convince the jury that what they're saying is the correct version of events," Sinins said. "If a jury senses that a judge does not respect an attorney, that is devastating to the client's case."
That doesn't mean attorneys shouldn't occasionally pick a fight with a judge on a strategic issue that may help their broader strategy later in the trial, Weinstein said.
"It's like a bombing run in a war, you want to soften up the playing field a little bit," he said. "But it can have really negative consequences, so you always have to seriously consider what you're doing."
This article was written by David Porter of the AP.
[Image via Fox News screengrab]
Have a tip we should know? [email protected]