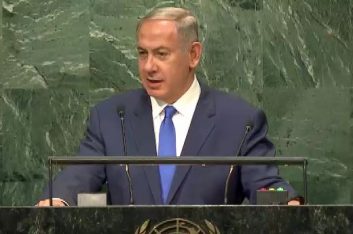 Israeli Prime Minister Benjamin Netanyahu was questioned by police on Monday in connection with allegations of corruption in two possible probes.
Fox News is reporting the investigation is based on suspicions raised by some that the two-time Prime Minister and his family members received gifts from both Israeli and foreign businessmen.  If the allegations are proven true, it could be considered a breach of his role as a public servant under Israeli law.
"The national police unit questioned the PM Benjamin Netanyahu under caution on the suspicions of receiving benefits," Israeli investigators said in a statement to media outlets." He was questioned for 3 hours at his residence. At this stage there is no further details to be given."
According to Reuters, the questioning of the PM was authorized by Attorney General Avichai Mandelblit, after he decided enough evidence was presented at a preliminary investigation to further a full criminal investigation.
After the questioning was reported by Israeli media, Mandelblit issued his own statement saying:
The nature of the investigation precludes us at this stage from giving details of the ongoing investigation but we will consider releasing more information from time to time according to developments.
Mandelblit also reportedly referred to additional suspicions that had been investigated, but yielded no evidence to justify further inquiries.
Confident that nothing will come of the investigation, Netanyahu attempted to reassure members of his Lukid Party before the questioning, saying, "I've said it before and I'll say it once again: there will be nothing because there is nothing."
The cases reportedly center on alleged gifts and benefits one local newspaper claims were worth "hundreds of thousands of shekels."  According to the latest exchange rate, one United States dollar is worth about $3.86 shekels; or said another way, a shekel is worth approximately one U.S. quarter ($0.25).
Netanyahu is not the first sitting PM to be questioned in a criminal probe, in fact, this is not even the first time he has weathered a scandal.
The first sitting PM to be questioned was Ariel Sharon, who was questioned in 2003-2004 over allegations ranging from bribery to corruption. His son Omri was ultimately convicted of corruption in 2006 and served time in prison.
Former PM Ehud Olmert is now serving 18 months in prison after a breach of trust conviction in 2014.
Netanyahu has always denied any wrongdoing.
[image via screengrab]
Have a tip we should know? [email protected]