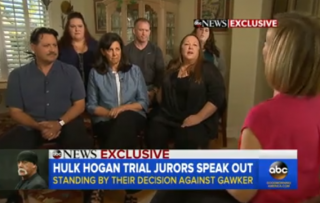 Jurors from Hulk Hogan's trial against Gawker over the sex tape excerpts that were posted online without Hogan's permission spoke to ABC News, giving their reactions to the trial. Gawker founder Nick Denton viewed their remarks from the Good Morning America studio and reacted.
When asked about their huge award for emotional damages, one of the jurors said, "if we were all in the same circumstances, how would we feel about it…we would have been devastated." This is quite interesting, because she admits that when they were evaluating the damage done to Hogan, they weren't even thinking of the actual damage done to him. Instead, it appears they based their verdict on the hypothetical damage that would have been done to them in the same situation.
The jury then addressed their feelings about Gawker and its founder — Denton. One of them stared at Denton while the judge read the verdict. "I was looking to see remorse and he still had blatant disregard for what he did." "They had no heart, no soul, it's all about the almighty dollar to them, and it's sick," another commented.
Denton's reaction to seeing the jury say those things about him seemed to confirm the jury's sentiment. When asked if he felt any remorse about posting the story, Denton said, "I don't…I believe it was newsworthy." He added, "It's the right of the jury not to like the story that we wrote, but it's a free press."
[Screengrab via ABC News]
Have a tip we should know? [email protected]