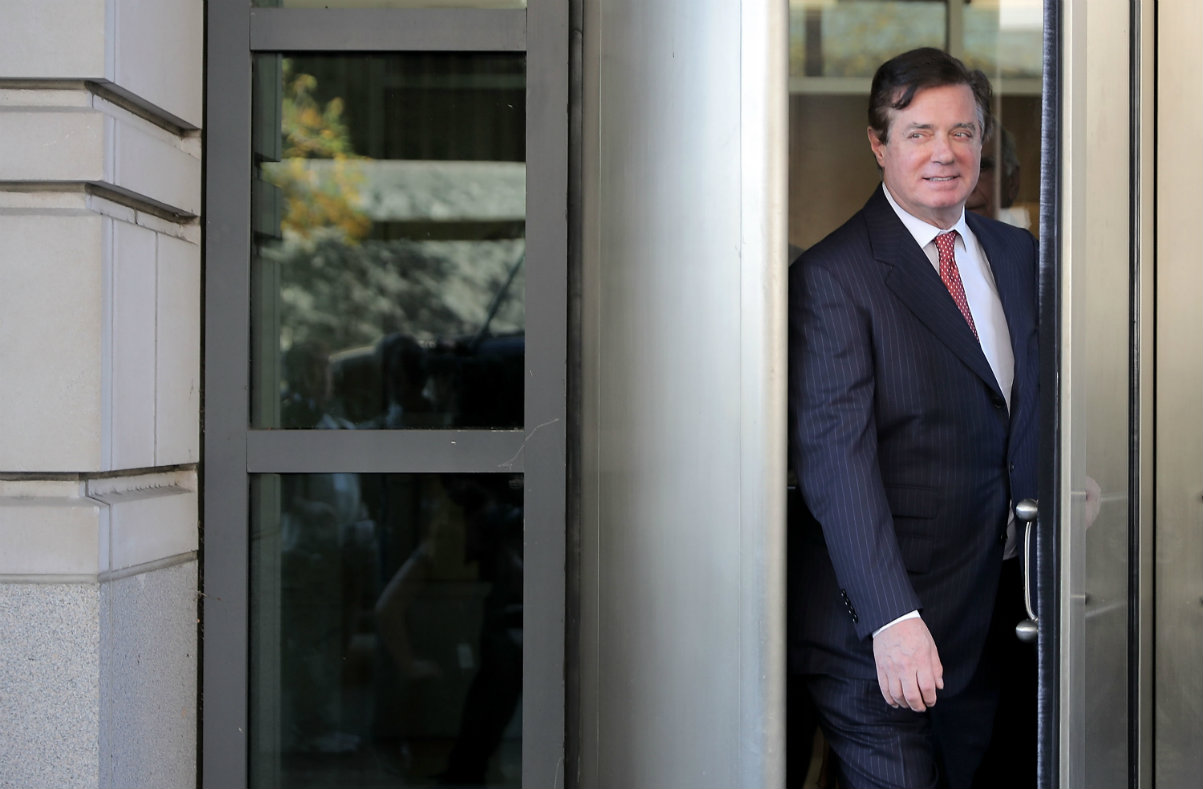 Paul Manafort's attorneys have asked a federal judge in Virginia to bar any and all mentions of their client's connections to President Donald Trump, according to a recent defense motion.
In those documents submitted to the court on Friday, Manafort's attorneys argue that because his alleged crimes occurred well before Manafort assumed leadership of then-candidate Trump's presidential campaign in 2016, any mention of the 45th president by special counsel Robert Mueller would be irrelevant and prejudicial.
Attorneys Kevin Downing, Thomas Zehnle and Jay Nanvati argued:
[T]here is a very real risk that the jurors in this case – most of whom likely have strong views about President Trump, or have likely formed strong opinions as to the well-publicized allegations that the campaign colluded with Russian officials – will be unable to separate their opinions and beliefs about those matters from the tax and bank fraud matters to be tried before them in this case.
The filing continues, noting, "Evidence or argument relating to Mr. Manafort's work for then-candidate Trump's campaign in 2016 or the Special Counsel's investigation of the campaign's alleged collusion with the Russian government is wholly irrelevant to whether Mr. Manafort's personal income tax returns were false, whether he willfully failed to file reports of foreign accounts, and whether he conspired to commit, or committed, bank fraud."
Manafort is currently facing charges of tax evasion in Virginia based on allegations that he hid millions of dollars of income gained from advising pro-Russian political figures in the Ukraine. Manafort's trial in Alexandria is scheduled to begin next month and he faces separate charges in Washington, D.C. based on alleged violations of federal lobbying, banking and disclosure laws. In the Friday filing, Manafort's team also moved to have any mention of the concurrent D.C. indictment disallowed.
But Manafort's attorneys weren't alone in making hardball arguments before the court.
Mueller's team also submitted a weighty motion to U.S. District Court Judge T.S. Ellis on Friday. In that filing, Mueller's team moved for severe limitations on what Manafort's defense team can say to jurors. The submission argued, "Manafort should…be precluded from arguing that he has been singled out for prosecution because of his position in the campaign of then-candidate Donald J. Trump, or otherwise asserting that he has been selectively prosecuted by the Special Counsel's Office."
Apparently anticipating such tactics from the defense, Mueller's team noted that Manafort has yet to file an actual pre-trial motion asking for dismissal of charges on the grounds of selective-prosecution. The prosecutors' motion continued:
Courts have consistently held that claims of selective (or vindictive) prosecution must be presented to the court before trial and cannot be argued to the jury. The government's reasons for initiating a prosecution have nothing to do with whether the evidence at trial proves the elements of the charged offenses, which is the sole question that the jury must answer.
Judge Ellis has yet to rule on either side's Friday submissions.
[image Chip Somodevilla and Getty Images]
Follow Colin Kalmbacher on Twitter: @colinkalmbacher
Have a tip we should know? [email protected]