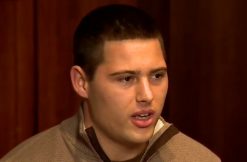 On Friday, former Vanderbilt University student Brandon Vandenburg was sentenced to 17-years behind bars for helping rape his then-girlfriend in his dorm room.
"This is one of the saddest cases I've ever seen," Davidson County Judge Monte Watkins said.
The rape survivor didn't attend Friday's hearing, but one of the prosecutors read a letter that she wrote. She demanded nothing less than the full force of the law.
Please do not use my absence as an excuse for leniency, as it in no way diminishes the profound and insidious impact of Mr. Vandenburg on me and my life. I still ask that he receive the full sentence allowed under the law for orchestrating the sustained 30-minute gang rape against me, a defenseless woman who trusted him. The minimum sentence is not enough for what this man did to me
Vandenberg made and circulated a cell phone recording of the 2013 gang rape. "I hope you can see I'm truly sorry," Vandenberg, 23, said when it was his time to speak at the hearing.
A jury found him guilty in June for five counts of aggravated rape, two counts of aggravated sexual battery, and one count of unlawful photography.
One of Vandenberg's teammates on the football team, Cory Batey, was convicted in April for his role in the incident. Two other players, Jaborian McKenzie and Brandon Banks have pleaded not guilty to charges in their pending cases.
[Screengrab via News Channel 5]
–
Follow Alberto on Twitter (@Alberto Luperon)
Have a tip we should know? [email protected]