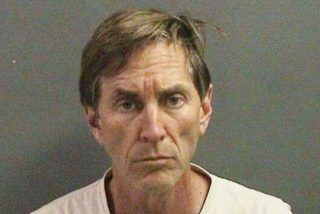 A criminal conviction for charges as serious as sex crimes is generally an emotionally charged moment for both sides, but the scene at Orange County Superior Court on Wednesday took an unexpected dramatic turn when a jury announced a guilty verdict for Jeffrey Scott Jones. Jones was found guilty of two felony counts of aggravated sexual assault of a child and one felony count of continuous sexual abuse, for raping a teenage girl.
After the verdict was announced, Jones pulled out a razor blade and slit his own throat in the middle of the courtroom, the Los Angeles Times reported. The jury was immediately taken out of the room, as a deputy restrained Jones, who was bleeding from the neck and screaming, according to Deputy Dist. Atty. Heather Brown. Jones reportedly hit his head on a table as well. He ended up surviving, and was hospitalized. Orange County Sheriff's Lt. Mark Stichter told the Times that Jones' injuries weren't life-threatening.
The conviction was based on Jones' repeated sexual abuse of a girl who was 13 years old and in eighth grade when it first began in 2012 and continued into 2013. Jones, who was a high school teacher for 27 years, never had her as a student. She is now 17.
Jones faces up to 68 years in prison, and is scheduled for sentencing on November 4.
Have a tip we should know? [email protected]