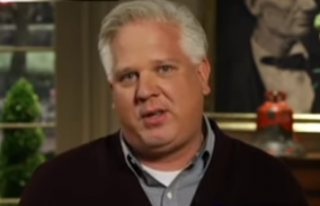 In July, Mercury Radio Arts, Glenn Beck's production company that oversees TheBlaze, sued former TheBlaze CEO Christopher Balfe for breach of contract and fraud. The complaint accused Balfe of mismanagement, while paying himself $13 million. First, Balfe fired back in a statement to LawNewz.com, saying, "I feel terrible for Glenn and I hope he finds the help that he needs." Now he's fighting back in court.
Balfe, who was fired from Mercury in December 2014, filed a countersuit against Beck, claiming that Beck himself was the problem. The complaint, obtained by The Daily Beast, says that "Beck has driven [Mercury] into the ground due to his own erratic behavior, excessive spending, and mismanagement." Balfe's lawsuit alleges that Beck's own behavior and decisions led to the company's financial burdens.
Claiming that he deferred more than a million dollars in salary, "essentially providing an interest-free loan to Mercury," Balfe is now seeking more than $3 million in deferred compensation, bonuses, and legal expenses, plus punitive damages.
Mercury responded to the countersuit in a statement to The Daily Beast, saying:
So now the world is to believe that Glenn Beck would not be Glenn Beck without Mr. Balfe? Well, that's not only comical but we look forward to presenting actual evidence that proves our position and makes a mockery of his.
LawNewz.com has reached out to a representative for Beck for additional comment.
Have a tip we should know? [email protected]