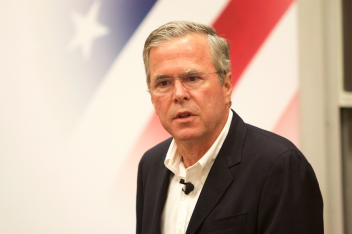 The Campaign Legal Center (CLC) on Wednesday filed a complaint with the Federal Election Commission (FEC) amid reports that Chinese citizens allegedly donated $1.3 million to super PAC supporting Jeb Bush.
The complaint filed by the CLC cites a report last week from The Intercept that alleges a U.S. corporation, American Pacific International Capital, Inc. (APIC), owned by Chinese citizens who are permanent residents of Singapore, gave $1.3 million to Right to Rise, a super PAC that supported Jeb Bush.  The complaint states, in part:
[B]ased on published reports, complainants have reason to believe that Gordon Tang and Huaidan Chen violated FECA's ban on any foreign national directly or indirectly making a contribution in connection with a Federal election, 52 U.S.C. § 30121(a)(1)(A), by participating in the decision to direct $1.3 million in contributions from APIC to Right to Rise USA (ID: COO571372), a super PAC supporting the presidential candidacy of Jeb Bush
The CLC contends these alleged donations violate the Federal Election Campaign Act (FECA), which prohibits foreign nationals from making contributions to U.S. election campaigns.  Furthermore, the CLC contends the alleged arrangement violates FEC rules that only allow foreign owned U.S. corporations to make donations to political campaigns if the foreign owners are not involved in the decision making process.
"This example … makes clear that disclosure is more important than ever. Because these particular donations were disclosed, journalists were able to uncover the violations," said Brendan Fischer, associate counsel for the Campaign Legal Center.
Fisher added, "But we can't be sure how many other foreign nationals have pumped money into our elections through undisclosed donations. Americans not only have the right to know who is influencing elections, but the FEC needs this information in order to enforce the laws protecting the integrity of our democracy."
READ the Complaint:
APIC Right to Rise Complaint 8-10-16
[image via shutterstock]
Have a tip we should know? [email protected]