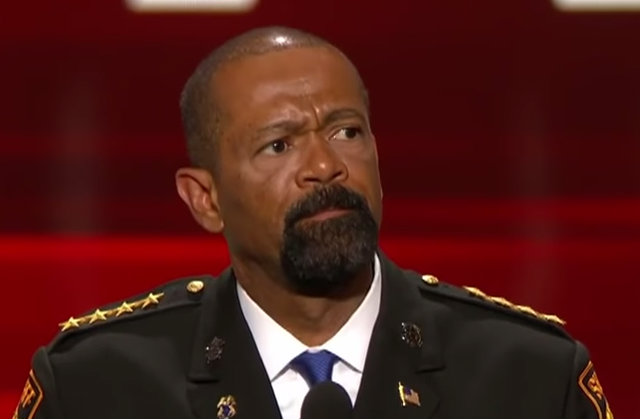 A recently discovered search warrant dated March 21 showed that the FBI searched Google for "information associated" with the email account of former Milwaukee County Sheriff David Clarke. They wanted info on communications from or after January 15 regarding the detention of Dan Black.
Yes, that Dan Black, the guy who sued Clarke in February for allegedly having him detained and interrogated by deputies after a flight to Milwaukee. Black claimed that it was Clarke who started the confrontation, asking him during the flight if he "had a problem." He also said that the sheriff's office later posted a threatening statement, "Next time he or anyone else pulls this stunt on a plane they may get knocked out. The Sheriff said he does not have to wait for some goof to assault him. He reserved the reasonable right to pre-empt a possible assault." His office declined to comment on the lawsuit in February.
The Feds were investigating Clarke for allegedly misusing his authority as sheriff.
Here's a bit about the law at issue in the Sheriff David Clarke investigation pic.twitter.com/1jQFuWzEgS

— Robert Snell (@robertsnellnews) December 29, 2017
FBI is reading Sheriff David Clarke's text messages to staff, according to search warrant affidavit. Here's one exchange after incident at airport pic.twitter.com/V6e80FBXZB

— Robert Snell (@robertsnellnews) December 29, 2017
Law&Crime asked Clarke, who resigned as sheriff in August, for comment on the search warrant. He said it's old news.
"I am NOT currently under investigation by the FBI in the Black case," he wrote in an email. "That investigation was closed back in May 2017." He attached a letter his lawyer got from federal prosecutors at the U.S. Attorney's Office at the Eastern District of Wisconsin. In it, they said they dropped the case due to lack of evidence. "You'll have to ask FBI why the return of the search warrant took so long," Clarke added. "I was notified by Google that the search warrant request was made in March."
Law&Crime left phone messages Friday evening with the Department of Justice and FBI. You can read the full letter here.
Note: The article has been updated to reflect that Clarke responded to our request for comment.
[Screengrab via MSNBC]
Have a tip we should know? [email protected]