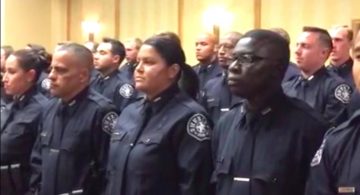 The Justice Department reached a settlement this week with the Denver Sheriff Department, after they allegedly discriminated against work-authorized immigrants by only considering the applications of U.S. citizens.
"The Denver Sheriff Department discriminated based on citizenship status by requiring applicants for deputy sheriff positions to be U.S. citizens and publishing job postings with U.S. citizenship requirements, in violation of the INA (Immigration and Nationality Act)," a statement from the DOJ reads.  INA prohibits employers from limiting jobs to U.S. citizens (except where they are required to do so by law).
The Sheriff Department will pay $10,000 in civil penalties. They will also have to go through their old applications and identify those who may have been disqualified due to the citizenship requirement. In addition, they are required to train human resources on the anti-discrimination provision of the INA.
The Department responded by tweeting that "[w]hile we didn't commit this violation intentionally, we accept responsibility." Officials also said they are taking steps to clarify policy and amend documents.
Have a tip we should know? [email protected]
Rachel Stockman - President / On Air Host