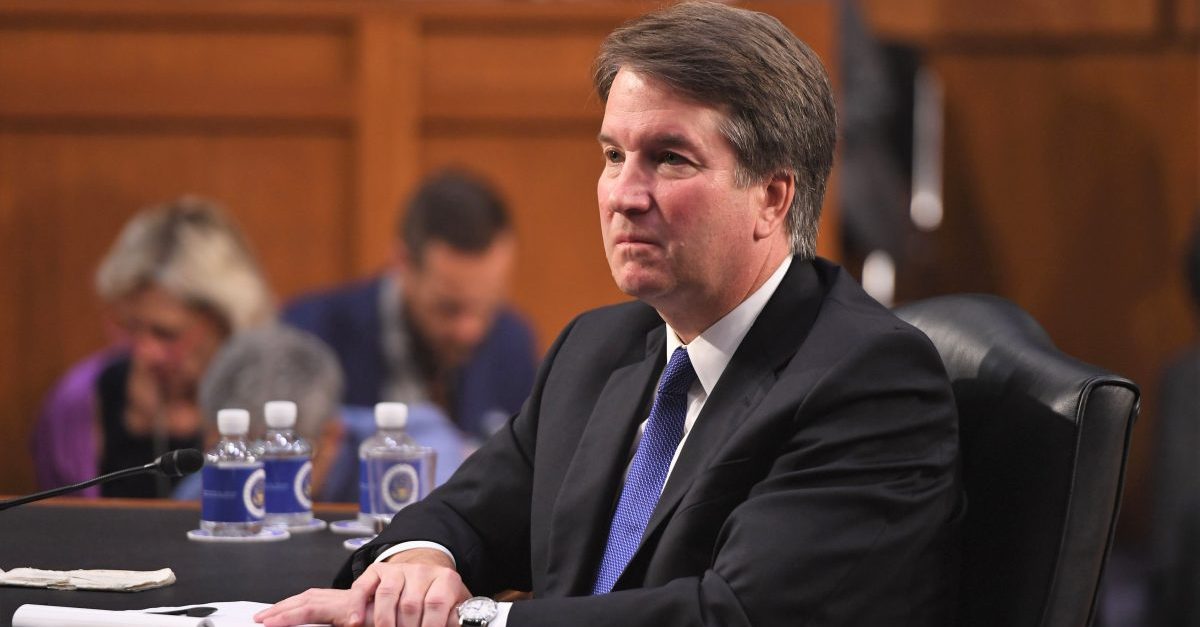 Judge Brett Kavanaugh's Supreme Court confirmation hearing was interrupted several times by protesters who shouted over Senators who were speaking, many of whom were arrested. Now, three men from Texas who were there claim that they saw some of them get paid for their actions.
Video of their comments has been circling in conservative circles, and the men were speaking with Adam Schindler, a digital strategy consultant who is a supporter of President Donald Trump. The doctors' story has not been verified by any official body, but Schindler has shared photos that appear to back up their claim.
In one image that he posted to Twitter, a woman in a black and white top can be seen with a man who appears to be handing her cash. In another photo, an individual who appears to be that same woman is being escorted out of the hearing by officers.
Proof the protestors were paid off in line. #Kavanaugh #ConfirmKavanaugh #ActivismInAction pic.twitter.com/hMLpP4zWPn

— Adam W. Schindler (@AdamSchindler) September 4, 2018
For those wondering if the photo of the person receiving cash in line was staged (it wasn't), here's some evidence of her getting kicked out of the hearing. Thanks @andaluzuelo https://t.co/r5BvOMIUGd

— Adam W. Schindler (@AdamSchindler) September 5, 2018
One of the men, Dr. Tom Schlueter, described one of these alleged transactions.
"One thing was there were people who had come along … who had a bag of money, and people would hand them a piece of paper, and then they would give them money," he said. "So we know money was exchanged for some of the people to be here, just to protest."
Schlueter then described instructions that these people supposedly received.
"They were actually told, we heard them say this, 'when you go in, we want you to yell, to scream, and even possibly to get arrested.' So that was some of the processes we saw happening," he recalled.
It's nothing new for Trump supporters to make unsubstantiated claims that protesters have been paid as part of some manufactured outrage, and it is important to note that there have been no other reports that we have found so far about what happened.
Schindler told Law&Crime that he knows the men through a prayer group they are in. He said he did not witness the alleged incident from Tuesday, but said that "they're back out today and I'm witnessing it today."
Update 9/6/18: Adam Schindler, who questioned the men who said they witnessed payments, has told Law&Crime that he spoke with a protest organizer about alleged payments. He stated that the organizer told him that her organization paid people's fines that they incurred for protesting, but did not pay people in order to protest.
Note: This article has been updated with additional information provided by Adam Schindler.
[Image via SAUL LOEB/AFP/Getty Images]
Have a tip we should know? [email protected]