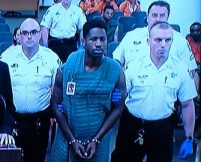 Man, you can't trust coworkers with anything can you? Cops in Tampa, Florida think they've caught the suspected serial killer terrorizing Seminole Heights. Howell Emanuel Donaldson III, 23, faces four counts of first-degree murder after his colleagues at a Ybor City McDonald's turned him in. It started with a joke.
"We would tease him and say he was the killer, because he looked like the pictures," Gail Rogers told The Tampa Bay Times in a Wednesday report. (In a bid to catch the suspect in four murders, Tampa police released images of a man in the proximity of two murders. His face wasn't quite clear in the footage, but he had a flip phone and distinctive gait.)
"I called him the killer to his face," she said. "He didn't like that."
Rogers ended up playing a role in Donaldson's arrest. She claimed that he gave the restaurant manager a gun.
"He said he would text her what to do with it," she said. "I told her let's tell the police officer." And that's what they did. Cops apprehended Donaldson at the McDonald's on Tuesday, and quickly linked him to the killings. Police said his .40 caliber Smith and Wesson handgun matched casings found in three murders: the killing of 22-year-old Benjamin Mitchell on October 9, 32-year-old Monica Hoffa on October 11, and 20-year-old Anthony Naiboa on October 19. Donaldson was also booked in the November 14 shooting death of 60-year-old Ronald Felton. Police said clothing in the his car matched attire worn by the suspect in surveillance footage.  There appeared to be some blood on them, cops said.
The investigation is ongoing. The shootings left police stunned because there was no apparent motive, but they quickly believed these were connected.
"It's the time, the methodology, the fact that they were all alone," Tampa Police Chief Brian Dugan  said in a press conference two weeks ago. "There is no motive. Nothing is taken or anything like that."
Donaldson appeared in court on Thursday represented by attorneys. It was a short session. The judge scheduled a hearing for Tuesday to decide whether he will continue to be held without bond.
Have a tip we should know? [email protected]