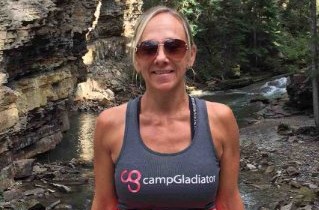 There's been no arrest in the murder of a fitness instructor at Texas church, but investigators believe they're closer to finding out who did it. Tipsters and a "creepy and strange" social media message reportedly helped narrowed the search, according to a Good Morning America report on Friday.
Terri "Missy" Bevers was murdered on April 18 at Creekside Church of Christ in Midlothian, Texas, where she was preparing for an exercise class. Surveillance footage caught an unidentified figure in full-body tactical gear with the word "POLICE" on their jacket. Even this person's sex remains unclear.
One of Bevers' friends told investigators that Bevers got a "creepy and strange" message on LinkedIn shortly before the murder, according to a warrant obtained by ABC. Neither woman reportedly knew this guy. Investigators are also looking at another LinkedIn user who they say had "flirtatious and familiar" messages with the victim. The warrant suggested Bevers and her husband had martial problems, including affairs.
Police told ABC they believe the murderer might have found Bevers via social media, and recorded and photographed the killing. They're reportedly searching the phones of 10 people Bevers had been in contact with. Plus, members of the public sent in tips that were apparently credible, and very specific.
But it's still debatable as to whether Bevers previously interacted with her killer, or if this was basically a random murder.
"Typically, there is [a link between victim and killer] in many cases where there's a homicide," ex-FBI special agent Brad Garrett told GMA after being asked about the surveillance footage and possible social media association. "The problem with this case is, you burglarize a church, walk around, break in doors, and then you kill this woman. I don't know. Behaviorally, that doesn't sort of fit the interactor on social media, but we'll have to see."
[image via LinkedIn]
–
Follow Alberto Luperon on Twitter (@Alberto Luperon)
Have a tip we should know? [email protected]