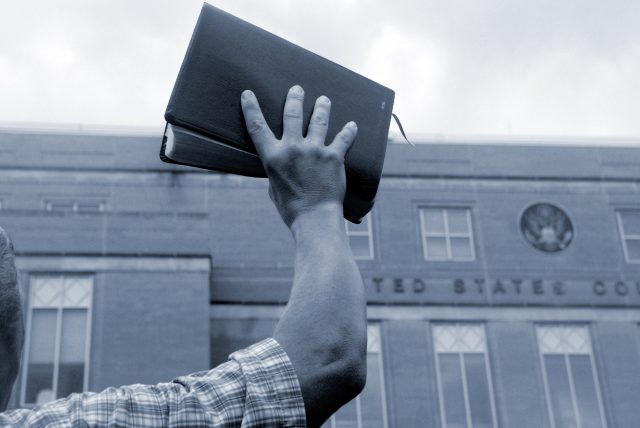 Three churches in Texas have sued the Federal Emergency Management Agency (FEMA) over the distribution of disaster relief funds in the aftermath of Hurricane Harvey.
According to the lawsuit filed today in the U.S. District Court for the Southern District of Texas in Houston, the churches claim FEMA unconstitutionally denies those funds to places of worship in violation of the First Amendment's Free Exercise Clause because FEMA treats them differently than other non-profits.
The church plaintiffs at issue are the Hi-Way Tabernacle, the Harvest Family Church and the Rockport First Assembly of God. Their suit reads:
FEMA policy explicitly denies equal access to FEMA disaster relief grants for houses of worship solely because of their religious status. If FEMA applies its policy to Hurricane Harvey, as it did to Superstorm Sandy and Hurricane Katrina, hundreds of churches, synagogues, and other houses of worship will be denied equal access to FEMA relief. For houses of worship, FEMA's policy is "simple: No churches need apply."
The quoted phrase above is taken from Trinity Lutheran Church of Columbia, Inc. v. Comer, a recent Supreme Court decision which held that otherwise available public benefits cannot be withheld from religious entities simply due to their status as religious entities–and that attempts to withhold such benefits are a violation of the Free Exercise Clause. This Supreme Court decision is the basis for the churches' legal argument.
The churches claim that FEMA's Policy Guide contains a "categorical ban" against providing disaster relief funds under the agency's Public Assistance (PA) Program and that but for this categorical ban, they would qualify for disaster relief funds due to their provision of services to community members.
According to the lawsuit, Hi-Way Tabernacle, "is currently in use as a shelter for dozens of evacuees, a warehouse for disaster relief supplies, a distribution center for thousands of emergency meals, and a base to provide medical services." The lawsuit does not mention similar activities performed by the Harvest Family Church or the Rockport First Assembly of God, but cites some of the damage their buildings have suffered due to Hurricane Harvey.
Due to the nature of the damage, the plaintiffs are seeking expedited relief.
[image via Shutterstock.com]
Follow Colin Kalmbacher on Twitter: @colinkalmbacher
Have a tip we should know? [email protected]