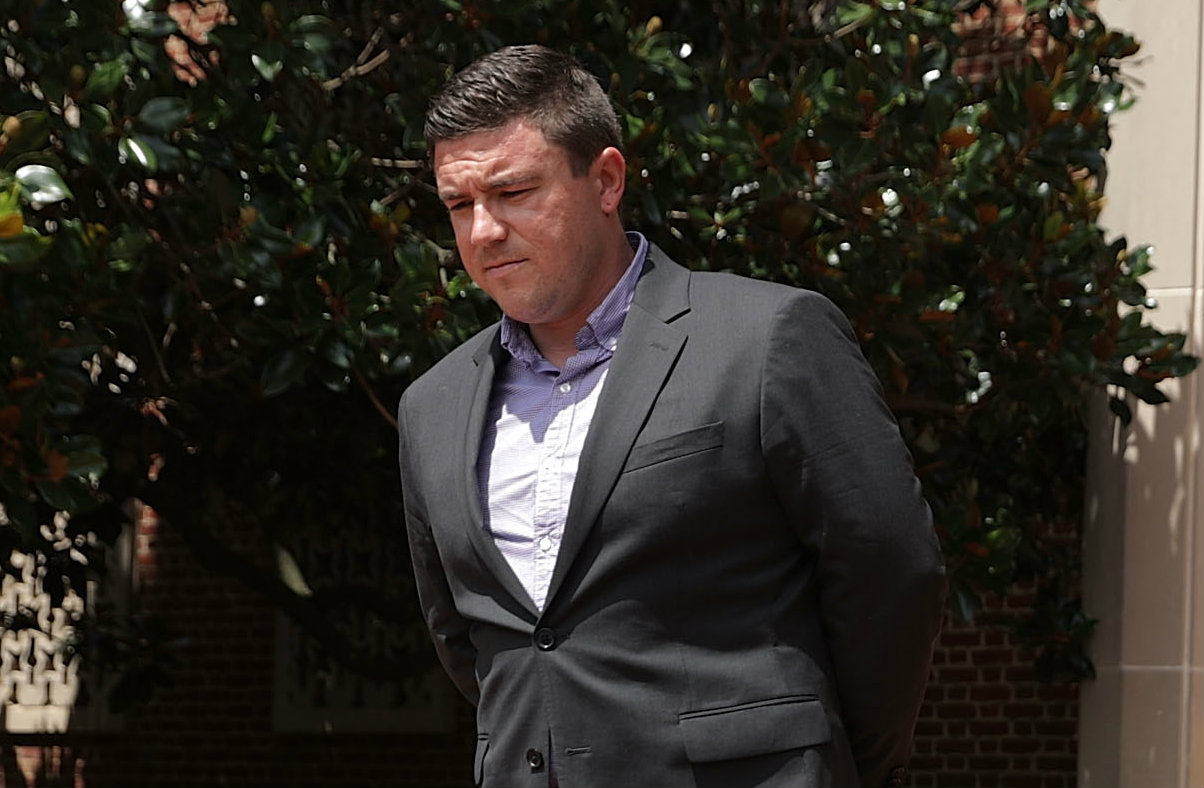 Jason Kessler, who organized the bloody "Unite the Right" rally in Charlottesville, won $5 in court Friday because an activist cursed him out, according to The Richmond Times-Dispatch. He actually wanted $500 dollars, but Judge Robert H. Downer Jr. determined that the plaintiff, who posted video of the incident online, wasn't actually damaged in the exchange.
The lawsuit stems from a March 16 confrontation outside the Charlottesville District Court. There, DeAndre Harris, a black man brutally beaten amid the rally last August 12, stood trial for allegedly attacking a white nationalist (he was acquitted). Kessler said he showed up to the proceedings to report for an online publication, and cover protesters' behavior. He got an earful from Donna Gasapo. She cursed him out, he said. "Crybaby Kessler," "Asshole," and repeated iterations of "Fuck you." He showed video of her calling him "murderer." Kessler said Gasapo was blaming him for the death of Heather Heyer last August 12 amid the rally. (James Alex Fields Jr., who prosecutors say is a white supremacist, is being charged in Charlottesville and federal courts for allegedly running his car into a crowd of anti-racist protesters, killing Heyer.)
Kessler said he sued to "bring civility back to our community." The legal basis for his complaint: Virginia's anti-dueling law. He argued that his character was damaged when he was called a murderer, and the other insults could've provoked him.
"There was a chance that I could respond violently and I don't want that to happen," he told the court, according to the outlet.
The U.S. Supreme Court determined in 1943 that so-called "fighting words" weren't protected speech under the First Amendment.
"There are certain well defined and narrowly limited classes of speech, the prevention and punishment of which have never been thought to raise any Constitutional problem," Justice Frank Murphy wrote in the unanimous ruling for Chaplinsky v. New Hampshire. "These include the lewd and obscene, the profane, the libelous, and the insulting or 'fighting' words — those which, by their very utterance, inflict injury or tend to incite an immediate breach of the peace."
Gasapo's lawyer Pam Starsia argued that Kessler was a public figure, and the standard was higher for establishing malice. The First Amendment protected her client's right to state hyperbole and exaggeration.
Gasapo admittedly said the words in anger.
"Someone in our community was murdered," she said. "White supremacists stormed into our city. It doesn't sit well with me."
Downer sided with them on their argument that Kessler was public figure, and wasn't actually damaged in the exchange. He gave the minor victory to the plaintiff, however, because Gasapo's words could've started a fight.
[Image via Chip Somodevilla and Getty Images]
Have a tip we should know? [email protected]